Auditor General Deodat Sharma yesterday presented Speaker of the National Assembly Dr Barton Scotland with the 2015 Auditor's General's Report.
The Audit Act stipulates that the report be completed by the ninth month each year and so for the seventh consecutive year Sharma was able to remain compliant with the law. The Speaker thanked Sharma for being both timely and accurate in his reporting and asked that he maintain that standard.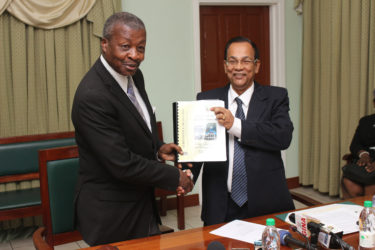 Speaking before the presentation, Sharma noted that his staff has achieved their objective of timely reporting through "sheer dedication and hard work." He, therefore, thanked his staff as well as those in the Accountant General's Office for being the "pillars of success."
He further noted that his office aims to execute high-quality audits while providing cost effective service through the implementation of the most up-to-date audit practices. To this end, funding from the Inter-American Development Bank (IDB) has been used to implement TeamMate, an audit management software which will assist in ensuring high quality work is produced on a more consistent basis and in keeping with international standards.
The software will also see the automation of the Audit Office's working paper files, real time review of audit work, reductions of paper stored as well as reduction in document retrieval time.
This is one of the ways the Audit Office has been able, with the support of IDB, CIDA and the governments of Guyana and India to continue its capacity building initiatives. Other initiatives include training both delivered and planned in areas such as report writing, performance, procurement and information technology auditing and forensic accounting and fraud investigations as well as a review of the Audit Office's Strategic Development Plan, which will chart the way forward for the next three years.
The report, which is a compilation of the audited financial records of Guyana's ministries, departments, and regions for the fiscal year ended December 31, 2015, will be laid in the National Assembly before being examined by the Public Accounts Committee (PAC), which has recently completed its examination of the 2014 report.
Sharma reminded citizens that the examination of the report by the PAC is open to the public and is "an ideal forum for citizens to hear if their tax dollars were spent for the purpose or purposes for which they were intended and in accordance with the required regulations, procedures and policies."
He further encouraged members of the public to visit the Audit Office's website at www.audit.org.gy so as to keep themselves informed of its work and avail themselves of the options to anonymously report any case of wrongdoing.
Parliament Office has also been encouraged to make those reports laid in the Assembly available via softcopy on its website.
Around the Web