After being blind for the past 10 years due to cataracts, a 94-year-old man has had his sight restored.
Foster McKay can now see again due to expert care of an ophthalmologist, who is a member of the visiting Chinese Medical Brigade.
On August 26 at the Georgetown Public Hospital Corporation (GPHC), Dr. Li Xiaofeng performed a surgery on McKay, who was told previously that it would have been too risky.
The condition of his eyes was found to be "highly complex" and he had given up hope of ever being able to see again. But Dr. Li was willing to give making the man's world bright again a shot. He had undergone a previous procedure that was unsuccessful.
Following the surgery, McKay was full of smiles and was very thankful when he realised that his vision was back.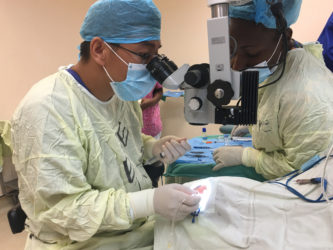 Dr. Li is part of the 12th Chinese Medical Brigade, which comprises a team of 16 doctors that arrived in June.
The team is headed by Dr. Chen Lianhua, who told Stabroek News that on "the first post-operative day when the nurse opened his eye cap, [McKay] was super excited that he could see everything clearly… He gave Dr. Li a firm handshake and said, 'Chinese doctor good.'"
McKay is just one of the patients that Dr. Li has made happy again. Since he came to Guyana with the medical team in June, he has performed many more complex surgeries and has "brought light back to plenty elderly patients."
Dr. Zhao Yao, a general surgeon, was also successful in helping an accident victim, who suffered trauma when her spleen was "broken in two" and six of her ribs were fractured. Relatives were relieved that she was able to have a full recovery.
The team came to Guyana as parts of efforts to preserve the bilateral relations between the Government of Guyana and the People's Republic of China.
They are offering their services at the GPHC and the Linden Hospital Complex (LHC) in obstetrics and gynecology, anesthesiology, general surgery, ophthalmology, burn and plastic surgery, orthopaedics, radiology, acupuncture, nephrology, pathology, and paediatrics.
Dr. Chen, a physician/nephrologist, told this newspaper that they are here to support the hospitals and to share their skills and experience with the local doctors. She said too that they are also consultants and would try their best to help the doctors at the GPHC.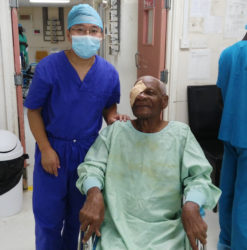 The Chinese government also donated US$420,000 worth in medical equipment, including laparoscopic equipment, to the GPHC. Dr. Chen said the equipment, which is "for emergency care," would help to save the lives of patients.
She said too that "through the Guyana /China relations," there are four centres of the China Medical Team in Guyana. She mentioned that at the GPHC, there is a centre for laparoscopic surgery and an eye centre (both were established in 2009) and a trauma centre (established in 2015), while a centre for laparoscopic surgery was set up at the LHC in 2014.
The first batch of Chinese medical professionals came to Guyana on May 26, 1993, as a result of the Protocol on Medical Cooperation signed between the two countries.
The 11th Chinese Medical Brigade, which departed shortly after the 12th batch arrived, treated 41,000 patients. This included providing emergency treatment to 3,000 critically ill patients and performing surgeries on 6,000 patients.
China has also dispatched medical teams to over 70 countries in Asia, Africa, Europe, Latin America and the Caribbean and they have treated over 300 million patients.
Around the Web