A man has been taken into custody after a fire early yesterday morning at McDoom, East Bank Demerara, gutted three houses, leaving close to 12 persons without shelter.
The ill preparedness on the part of the Guyana Fire Service in responding to the fire of unknown origin was also blamed for the extent of the damage.
Stabroek News was told that the fire began around 1.30am in the shared lower half of one of the houses. A neighbour, who asked not to be named, described the path of the fire as having moved from the lower flat of the Lot 50 Middle Road, McDoom residence, to the upstairs of the house, and then across to the shack and another house occupying the adjoining lot.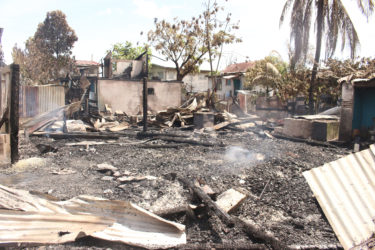 "When I sleeping, I feel the fire, I turn and feel a heat bunnin me. So when I wake up, pull off the sheet off of me now and look, and the whole one side wall ketching from over dis side here on di wall," Onicka Welch, one of the fire victims related, gesturing to the left of the compound.
The neighbour recalled how Welch had had to run next door where her children reside, as they were unaware of the events occurring around them.
"She now had to run over to the next yard where she children sleeping and alert them. They had to jump the fence with the babies and come out," the neighbour said.
In addition to five adults in the third house, there were also two babies, a one-year-old and another, seven-weeks-old.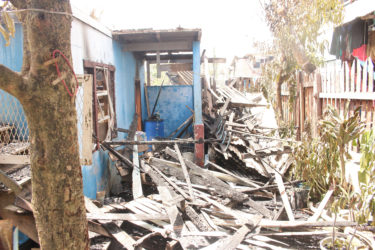 It was stated that the last apartment burnt quickly. It was also alleged, by several eyewitnesses, that the fire service took approximately two to two and a half hours to arrive. And when a fire tender did arrive, according to one neighbour, it had no water to feed from.
Meanwhile, police have arrested one man in relation to the matter. Welch divulged that the man in custody had been the occupant of the upstairs of the Lot 50 house and was also a relative of hers.
It was claimed that when persons ran out onto the street, they observed the man standing alone on the roadway watching the buildings burn. He had not bothered to alert anyone.
Anyone wishing to lend assistance to the families affected can make contact with Welch at 692-9501 or 233-0622.
Around the Web