Tractor operator Conrad Williams, who was injured in the freak accident that claimed the life of a teen at Abary Creek on Monday evening, has succumbed.
Williams, of Lot 12 Cottage Village, was nursing injuries to his left hand, a fractured left leg and a hole in his left thigh when he succumbed at the Georgetown Public Hospital on Thursday.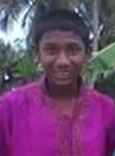 On Monday evening, Williams, his employer Deonarine Sukhlal, 51, also known as Das,' and his employer's son, Doodnauth Sukhlal, also known as 'Satesh,' 14, of De Hoop Village, Mahaica, were attempting to cross a tractor over the creek on a pontoon. They parked a canter truck so as to use the vehicle's headlights for the job. However, the hand brake was not applied and the truck slid and pinned the teen and Williams. After being freed, they were both rushed to the Fort Wellington Hospital, where young Sukhlal was pronounced dead on arrival. After receiving medical attention, Williams was transferred to the New Amsterdam Public Hospital then later to the Georgetown Public Hospital.
According to a police source, they believe that the rice farmer Deonarine Sukhlal was the driver who parked the truck but he has not admitted to being the driver. Police are still investigating. The teen's cremation is scheduled to take place on Sunday.
Around the Web