Members of the public are being invited to meet government ministers at the PNCR's headquarters and party General Secretary Oscar Clarke sees no problem with the potential merging of state and party interests.
"It is ministers from the party that will be meeting persons from the public at Congress Place. I am saying that there is absolutely nothing wrong with ministers meeting persons at the party headquarters, absolutely nothing wrong. The ministers are all from this party," Clarke told Stabroek News when he was contacted last evening.  The PNCR is the major component of APNU, the leading partner in the coalition government.
The PNCR yesterday issued a press release inviting the public to meetings it would hold every Friday, commencing next week, where persons could visit to discuss with the respective ministers any matters they need addressed.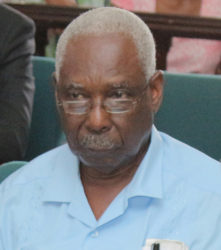 "The Public is, hereby, advised that commencing Friday 4th November 2016 and continuing every Friday thereafter, a Minister of the Government will be at Congress Place, Sophia between the hours of 10:00 am and 2:00 pm to address issues and matters of concern to you," the PNCR statement read.
Observers say that if the advertisement had referred to Members of Parliament, there would have been no problem but ministers meeting the public in their official capacity at a political party's headquarters – even their own – is not acceptable.
Not aware
When asked about this yesterday, Minister of State Joseph Harmon says that Cabinet is not aware of ministers of the government meeting with the public at PNCR headquarters. Harmon himself is listed in the advertisement to have a meeting at Congress Place on December 9th.
But when he was asked about the matter, Harmon said that Cabinet did not discuss the matter this week and he was not aware of the planned meetings.
The Minister of State noted that there is a distinction between government and party and it was an issue that he is sure that Cabinet will subsequently discuss.
"There was no discussion at Cabinet about a statement put out by a political party about ministers going to meet with the public. So, I am not aware of it at this point and time that you are raising it but I am sure we will examine that," Harmon said.
"Clearly there is a distinction between government and parties. So, sometimes parties within the coalition, when they go to their party press conferences and so on, they make statements. We do comment as a government. I deal with government and I will ask that maybe you address those party matters to the political parties that made the statements but certainly as a government we never discussed that at Cabinet," he added.
No distinction
The PNCR's General Secretary defended the decision, which was made by him, while saying that the same resources the respective government ministers would have used during their outreach outside of party headquarters would be used at Congress Place.
"Mister Harmon does not make decisions for this party….I am telling you that Minister Harmon cannot say what the party will be doing. I made that decision. All of the ministers there, that we listed, all of them are executives of the party, so why can't they meet persons at the headquarters? You tell me. Do you see anything wrong with that?" Clarke questioned.
Asked about the perception of such meetings and the separation between being a coalition government minister and a PNCR executive, Clarke replied, "How can they distinguish themselves as either a member of the government or a member of the party? It is one individual. I don't know there can be a distinction."
Questioned on if resources and materials used would be the party's or would fall under the subject minister's ministry, Clarke said that the ministers would have to supply their materials, since if they would have had an outreach outside of PNCR headquarters they would have had to bear that cost.
"The materials there is the same materials the government would have had to use if the minister was meeting somewhere else. You tell me, if they had gone on the road, would it not be the same materials they would have had to use? But only this time is at Congress Place," he asserted.
Clarke was also asked if he would have had an issue if the People's Progressive Party/Civic, when in government, would have held meetings with ministers in their official capacity at their Freedom House Headquarters.
"The PPP did that at Freedom House. They had meetings there all the time… I am saying to you people have a choice if they want to come and meet the ministers at Congress Place. Anybody can come, we are not stopping anyone from coming. If someone doesn't want to come to Congress Place then they have the choice to meet that minister in their office or on a walkabout," Clarke said.
Around the Web