A newly opened supermarket owned by Chinese nationals was robbed just before noon on Saturday by three armed bandits.
The men entered the Good Life Supermarket located at Lot 44 Public Road, Land of Canaan, East Bank Demerara under the pretext of being customers and carried out the robbery.
A victim of the robbery, Jian Zhang Lin, 26, explained to Stabroek News yesterday that the men entered the business and not long after held up staff and customers.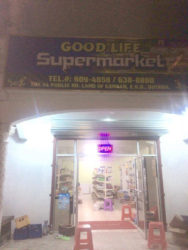 He said that the men then proceeded to steal valuable items from the customers and the proprietors.
He related that one of the bandits jumped over the counter and stole $300,000 and an undisclosed amount of cigarettes and phone cards.
They also stole two iPhone 6s belonging to Lin, a Samsung and a Blu smartphone belonging to customers.
The other persons robbed were Jonathan Spiegel, an American citizen and seamen Carlos Williams and Ramnarine Lall.
Lin said he was beaten on his head by the men as they hunted for valuables and said that two customers were also assaulted by the bandits.
The robbery lasted for approximately 15-20 minutes, Lin said before the men escaped in a waiting car.
Police investigations are still ongoing and no one has been arrested.
Two bandits on a motorcycle created havoc on the East Coast Demerara between Friday afternoon and Saturday morning, storming three businesses at gunpoint.
R Persaud Service Station in Mon Repos, Gian Supermarket in Annandale and the Daily Supermarket in Enterprise were each attacked at different times by two men on a motorcycle.
Daily Supermarket and Gian Supermarket are owned by Chinese nationals, who told Stabroek News on Saturday that they were living in fear since the incidents. Neither businessman wanted to be named out of the fear of being targeted again; both said it appeared as if bandits were robbing Chinese-owned businesses more frequently. "Everybody probably think that it easy to rob Chinese people because it looking like they just targeting we," one of the businessmen said.
Around the Web