An inside job is suspected in the robbery of the Yokohama Trading head office, from where over $17M was stolen in a gun-point hold up on Monday.
A police source told Stabroek News yesterday that the matter is being thoroughly investigated and given special attention since an "inside job" is suspected.
Statements have been taken from several employees, who were also questioned in relation to the robbery.
The company's head office, located at Lot 72 'B' Barrack Street, Kingston, was robbed of over $17M in local and foreign currency around 8.10 am on Monday.
Stabroek News had previously reported that two bandits, who were armed, entered the auto sales company shortly after it had opened for the day and held customers at gunpoint. During the attack, the cashier was forced to hand over the money, which was stored in a safe, to the bandits.
The men managed to escape in a hire car, which reportedly bore a false licence plate.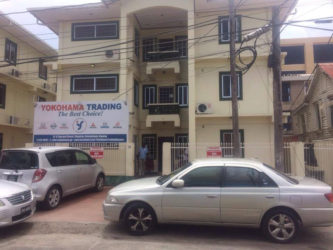 Manager of the company Deepak Balradj yesterday told Stabroek News that while the matter is being investigated by the Guyana Police Force, he has hired a private investigator to assist with the probe.
Balradj related that around 8:35am on Monday, he was at the company stockyard at Plantation Sophia, East Coast Demerara performing some duties when he received a call from a weeping employee, who informed him of the robbery. As a result, he left immediately for the head office. He said he was told that the security guard stationed in front of the premises had just gone into the secretary's office to fill some water when he was gun-butted to the head from behind.
The security guard, he said, fell to the ground after which the gunmen held the secretary at gunpoint. They then proceeded to the cashier area and demanded that the cashier open the door or they would shoot the secretary.
Out of the fear, the cashier complied with the gunmen, who ordered her to open the safe. While this was happening, the security guard managed to escape to a nearby building, where he raised an alarm of the robbery in progress.
The bandits, however, managed to make good their escape.
Balradj recalled that on Saturday, a staff member related to him that two armed men entered the office and were seen acting in a suspicious manner.
Monday's attack was the first such experience for the business, which has been in existence over one year.