A William Street, Kitty resident was yesterday granted $70,000 bail after denying that he pulled a gun on his ex-girlfriend.
It is alleged that on November 11, at 111 Miles Mahdia, Renato Gamell, 27, of 18 William Street, Kitty, made use of threatening behaviour towards Anika Taitt.
Gamell pleaded not guilty to the charge when it was read to him.
Attorney Stanley Moore, who represented Gamell, told the court that his client and Taitt were in a relationship which ended. The lawyer maintained that his client is innocent of the offence and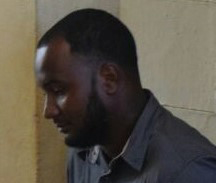 should be granted reasonable bail.
Police Prosecutor Neville Jeffers, who had no objections to bail, told the court that Gamell and Taitt were arguing and he pointed a gun at her.
According to the prosecutor, the accused is a licensed firearm holder and is employed at a security firm in Mahdia. Jeffers said that if Gamell is granted bail, he should be placed on a bond to keep the peace and stay away from Taitt.
Chief Magistrate Ann McLennan granted the accused his release on bail with the conditions that he stays 50 feet away from the virtual complainant and that he should not be in possession of a firearm. The matter was adjourned until January 17, 2017.
Around the Web