Based on weeks of intelligence gathering, ranks of the Guyana Police Force yesterday during a ten-hour operation in the Berbice River, destroyed several acres of cannabis and nine camps.The cannabis and camps were found at Hofwerk and Gateroy respectively, located several miles out of New Amsterdam.
In excess of eight thousand plants ranging in height from two to six feet with an estimated weight of seventeen thousand kilograms were found under cultivation, with makeshift tents and camps erected under which harvested cannabis was hung up to dry, while a large quantity already packaged in bags with an average weight of nine thousand kilograms, the police said today.
No arrests have been made so far but investigations are in progress.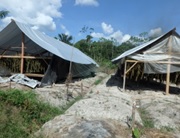 Around the Web