Colette Parks, the woman who allegedly rented the getaway vehicle used by the men who robbed the home of People's Progressive Party (PPP) General Secretary Clement Rohee, was yesterday charged with two counts of armed robbery and remanded to prison.
Parks, 49, appeared before Magistrate Crystal Lambert at the Providence Magistrate's Court, where she pleaded not guilty.
The charges stated that while being armed with a gun and being in the company of others, she robbed Clement Rohee and his wife Chamalee Rohee of foreign and local currency and jewellery, which carried a total value of $4,400,397.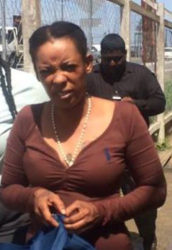 Parks, who was unrepresented, told the court that she lives at Mahaicony, on the East Coast of Demerara but explained that she does not know her address. However, a statement issued by the police gave her address as 4692 Postal Housing Scheme, Georgetown.
Police Prosecutor, Corporal Sophia Sardinha objected to bail and noted that the evidence gathered by the police is strong enough for a conviction.
She also cited the difficulty the police had in locating the woman, who did not provide any fixed address to them.
Magistrate Lambert subsequently upheld the objection to bail and Parks was remanded until January 11, 2017.
The robbery of Rohee's Lot 6 – 7 Ixora Avenue, Eccles, East Bank Demerara home occurred around 11 am last Wednesday. It was carried out by three men, armed with guns and a knife, who assaulted two maids and carted off an undisclosed amount of cash and jewellery.
The getaway car was later found parked along Croal Street, Georgetown, hours after the attack.
The police had said in a statement that the bandits carted off a quantity of gold jewellery, several wristwatches and cash, having assaulted and duct-taped the hands and feet of Rohee's two domestic workers, who were present at the time of the attack.
The police said the two women, ages 28 and 52 years old, were in the lower flat of the building, when the suspects, armed with handguns, entered through an open western door and demanded cash and jewellery. The women said they had none and were assaulted, bound and taken to the upper flat. The bandits then ransacked the rooms and escaped with the valuables in a waiting car, bearing registration number PRR 514.
Rohee, former minister of home affairs, had told reporters that he left home around 9.30am on Wednesday for work. He later received a call from a neighbour informing him of a police presence in front of his home.
Around the Web