Clebert Reece, one of two men who pleaded guilty to manslaughter after the massacre of 12 persons at Bartica on February 17, 2008, was yesterday sentenced to 35 years in jail.
Reece, called 'Chi Chi,' and Michael Caesar were initially indicted on 12 charges of murder. Both men had indicated their desire to plead guilty to the lesser count of manslaughter, which was accepted by the State. Three other accused are currently on trial for the murders, while Caesar's sentencing is set for December 16th at the High Court in Georgetown.
Reece accepted that on February 17, 2008, at Bartica, he unlawfully killed Lance Corporal Zaheer Zakir and Constables Shane Fredericks and Ron Osborne, along with Edwin Gilkes, Dexter Adrian, Irving Ferreira, Deonarine Singh, Ronald Gomes, Ashraf Khan, Abdool Yasseen, Errol Thomas, and Baldeo Singh.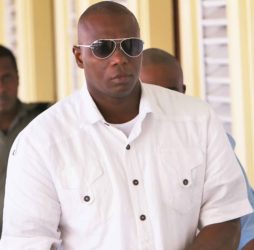 Immaculately dressed in a green suit, the 39-year-old Reece, when given a chance to speak, said, briefly and tearfully in a barely audible tone, "I'm sorry for the deaths of the people's loved ones."
Probation Officer Debra Joseph, who presented a report on Reece to the court, said that in his interview with her, he related that as a child, he was obedient and willing, and loved to attend school. The report noted that Reece exited the school system before writing his CSEC examinations, to assist his single parent mother, who operated a shop; before becoming a gold miner, interior decorator and mechanic.
According to the probation report, residents of Reece's Fyrish, Berbice hometown, described him as a God-fearing person, who was never confrontational and had been loving, caring and fun to be around.
However, Reece's life suddenly took a twist when a cousin of his became a member of a gang of nine men with questionable characters and encouraged him to join, the report said. According to a resident who was interviewed, that cousin gradually transformed from a quiet person into a savage, ruthless and merciless individual, who allowed his companions to manipulate Reece into joining their gang.
According to the report, Reece had divulged that it was his cousin who had given him the cell phone number of now deceased gang leader Rondell "Fine Man" Rawlins, after which his (Reece's) life "became a living hell."
He related, the report said, that he was threatened on various occasions by Fine Man that if he resisted joining the gang, his children and other family member could be "wiped out."
The Probation Officer detailed that Reece said he finally submitted to Fine Man, as he was told that the police were "powerless," and there was, therefore, "no need for him to report anything to them."
The court then heard that as time went on Reece was recruited as the person to transport members of the gang, "to their various destinations, which included Bartica."
According to the report, Reece said he attempted many times to run away from the gang, but was met with resistance by its members. He, however, finally succeeded only after the wanton loss of lives at Bartica, in which his cousin played an "active role."
No excuse
The probation report said the convict refused to make a formal report to the police or to any other authority for fear of his life and of his family members' lives.
The Probation Officer, in her report, underscored that there were no words to express in totality the wanton disregard for the lives lost during the cruel and barbaric attack committed on dedicated serving members of the Guyana Police Force and civilians alike.
Joseph emphasized that there was no excuse which could be mooted by the convict that could be plausible, while noting that he gave no thought to mercy nor to be deterred from participating in the massacre of the 12 souls.
Noting that he has been candid about his involvement in the crime, and has shown remorse, Joseph said the father of two stated that if he had chance to relive his life, he would remain in the interior, or migrate.
The officer said that in the interviews she conducted, those close to Reece all said that he was not one known to be involved in such acts, and they could not comprehend how he committed them.
Joseph noted that irrespective of Reece's remorse, justice had to be meted out because lives were lost.
Reece's attorney, Madan Kissoon, in mitigation, begged Justice Roxane George to take into consideration that his client has been incarcerated for eight years now and had taken the first given opportunity to plead guilty to the charge—saving the court considerable time in otherwise having to conduct a trial.
In a lengthy submission, counsel stated that if the law had so permitted, his client would have been willing to speak about his involvement in the crime even during the preliminary inquiry.
Kissoon also asked the court to consider that his client has two minor children and has been spoken of as being of good character by his community and family.
The lawyer noted that his client was throwing himself at the mercy of the court and begged that whatever the sentence, it be handed down concurrently.
Justice George, in a stern reprimand, emphasized the need for a strong message of deterrence to be sent to potential offenders and those who may be involved in organizing massive gang-related crimes, such as in the case of Bartica.
The judge surmised that Reece apparently allowed himself to be led astray by a relative. She questioned how one, described as loving and caring as Reece, could become so uncaring, with utter disregard for the loss of life. She noted that though there was no evidence that Reece himself had actually pulled the trigger and shot any of the victims, he played a part in a highly-organized enterprise, as driver for the gang.
Justice George underscored the grave nature of the crime, noting that unsuspecting victims, innocently going about their business, had their lives callously snuffed out, not knowing of the mayhem that would befall them.
She highlighted too that while Reece spoke of being fearful for himself and family, his fear could not be to the extent that he put the lives of others in danger.
Guiding her sentence by caselaw to which she referred, Justice George began at a base of 65 years. She then deducted eight years for time so far spent behind bars, and 12 years for the mitigating factors presented by counsel. She deducted 10 years for the guilty plea, while noting that for a guilty plea in such cases as Reece's, the court's discretion follows a one-third deduction of the 65 years, which would have been equivalent to 21 years. However, she noted that given the grave nature of the crime, only half of that deduction would be made, bringing the total deduction for the guilty plea to 10 years.
Conscience
Justice George said that while the convict had expressed remorse, and concern for his children and family, those who lost their lives also had children or loved ones. She, however, noted that his remorse was probably an indication of his conscience returning to a "God-fearing way."
With the deductions, the total years to be spent behind bars amounted to 35. The judge handed down 35 years on each of the 12 counts, but ordered that they be served concurrently. She also noted that Reece will become eligible for parole after spending 30 years behind bars.
After the sentencing, Reece, who had constantly wiped the tears trickling down his face throughout the proceedings, shuffled out of the courtroom in shackles and handcuffs, under heavy police guard.
At a hearing late last month, at which he pleaded guilty, Prosecutor Diana Kaulesar, who is leading the state's case with state counsel Stacy Goodings, had related to the court what Reece had told investigators about his involvement in the crime.
The court had heard that according to Reece, he was forcibly recruited by someone whom he identified as "Sad Man," and who he claimed had threatened to kill his family. Sad Man was later identified as the now dead Fine Man.
The prosecutor had said that on the day before the killings, Reece had told investigators that he and the others acquired a boat, which they would use to travel to Bartica. On the evening of the attack, he had said the men were dressed in camouflage suits and army uniforms and were armed with AK-47s.
On arriving at Bartica, Reece told investigators, he remained in the boat with three other persons, while the others left, and shortly after he heard gunshots. He said that after some time had passed, the other men returned with pump-action guns, hand guns and two canisters.
The court then heard that according to what Reece told the police, Fine Man shot five men at the stelling behind their heads. Reece also said that he had heard from the others that at that point, they had already killed seven other men.
Reece said he drove the boat to Sharima, in the Essequibo River, where he moored it.
The prosecutor said that the men then boarded a jeep with their weapons and the other articles they had gotten during the attack. She said that Reece then poured gas into the boat and set it adrift.
Kaulesar told the court that Reece, along with the men, all travelled on land with the articles and they eventually built a camp. Kaulesar said that Reece spoke of canisters that they stole being opened and them finding money, gold and jewellery inside.
Reece, she added, said he and others were given six ounces of gold each. She said that some three months after, he escaped from the men. Reece had said that sometime after that period, he saw a gang member with two friends and they all went and bought food.
The prosecutor said that on the following day, Reece was arrested in a car with a friend, identified as "Randy," who was wanted for murder.
Kaulesar said that on May 27, 2008, Reece was put on an identification parade and he was picked out.
Around the Web