Close to 100 packets of compressed marijuana was found under the Stabroek Market canopy yesterday in a raid carried out by the City Constabulary.
Superintendent Gordon Langevine told Stabroek News that a surprise cordon and search was carried out around 2.30pm in the area.
A black plastic bag, containing packets of the marijuana, was found concealed under a stroller, while a second bag was found hidden behind a stall next to one of the gates.
According to Langevine, the constabulary conducted the raid based on intelligence that was gathered.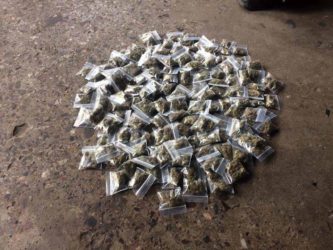 A raid on Thursday also saw the discovery of a quantity of narcotics. He disclosed that they were also tipped off about a firearm being in the area but efforts to locate it proved futile.
Langevine noted that when efforts are made to remove loiterers from the market's gates, they would often claim to be related to vendors and that they were looking over their stalls. Most of the stalls are encouraging the illegal activities, he added.
In October, several raids conducted by the constabulary uncovered drugs, while in one instance a rifle was discovered.
However, according to the vendors, for years they have been making complaints to both the Clerk of Markets and the constabulary about the unsavoury elements who have taken over sections of the facility. The vendors further alleged that most times persons who are caught selling the illegal substance would return and say they paid the city constables for their release. They also said that the constables and higher ranks in the constabulary know the people who are selling drugs at the market.
Vendors went on to complain about the poor security in the market despite complaints that have been made. They said in previous years there was a heavy presence of constables at the gates as well as patrolling the area. Now, they say, when their stalls are broken into, the constabulary would only take a report.
The vendors accused Langevine of conducting the raids for fame. "He only doing this for fame because he going off just now," said a female vendor.
Around the Web