A Central Rupununi man is now hospitalised after being hit by a felled tree at Awarewaunau, Rupununi backdam on Thursday afternoon.
The injured man, Earl Alfred, a farmer of Awarewaunau, which is located approximately 90 miles away from Lethem, is currently at the Lethem Public Hospital receiving treatment. The man's wife, Belinda Alfred, told Stabroek News that the accident occurred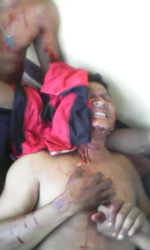 around 2.30pm on Thursday afternoon as her husband and others were cutting down trees in the backdam. She explained that the tree which fell on her husband was being chopped by another resident.  She pointed out that at the same time her husband was also cutting down a tree with a chainsaw and as a result he did not hear the tree falling.
The man, who bled profusely and lost a significant amount of blood, suffered injuries to his head and feet.
Belinda said after her husband was transported to the entrance of the backdam, he was placed on a motor cycle and taken to the community health centre. However, he was unable to access emergency medical attention there due to the medical personnel being on leave. As a result, he was taken to the Aishalton Health Centre.
The wife pointed out that her husband fainted on his way there as the journey took almost four hours. Afterward, his transfer to the Lethem Public Hospital took an additional two hours. Up to press time, his condition was said to be stable.
Around the Web