President David Granger has granted his approval to a request for an extension of time for the submission of the final report of the Commission of Inquiry (CoI) into the discovery of a foreign aircraft at Yupukari, in Region Nine, the Ministry of the Presidency has announced.
In a statement issued last evening, the ministry said the request was made by Head of the Commission, Brigadier (ret'd) Edward Collins.
As a result, the report, which was due to be handed over to the state on November 16th, 2016, will now be handed over on November 25th, 2016.
Collins was tasked with investigating, examining, advising and reporting on the circumstances under which the foreign aircraft, which was discovered on September 13th, 2016, entered into the country.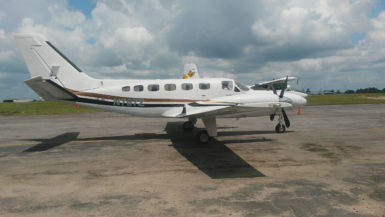 Concurrent to the CoI, a Joint Services team, headed by Superintendent Hugh Denheart of the Guyana Police Force, is conducting investigations and will pursue and probe the areas beyond the scope of the Terms of Reference of the CoI, the ministry said.
Minister of State Joseph Harmon, who received the preliminary report last month, had noted that the administration is looking forward to the final document and its findings and recommendations.
The plane, bearing registration number N767Z, was first brought to the attention of officials by a resident of the area. The following day, Wednesday, September 14th, a joint army and police team, inclusive of the Customs Anti-Narcotics Unit, was dispatched to the location to conduct investigations. One week later, the government announced that a CoI would have been set up to probe the discovery of the aircraft in Guyana's territory.
Upon handing over the preliminary report, Collins revealed that the twin-engine Cessna plane originated from Colombia and residents had found it almost a month before an official report was made to authorities. "The aircraft was discovered by the Joint Services on September [13] but it was in that location long before that.
There is enough evidence to suggest that the aircraft came from Colombia and was on its way to Guyana. It developed engine problems and the pilots had a requirement to conduct a certain manoeuver in order not to lose consciousness and when they got to Guyana, because the aircraft could not start, it remained there for a while. We have evidence to suggest that the residents found that site by August 18, 2016," he had said.
Around the Web