Opposition Leader Bharat Jagdeo has called the government's move to give former PNC Prime Minister Hamilton Green a pension on par with the "high office" he occupied between 1985 and 1992 duplicitous, while saying a case will have to be made that he is deserving.
"I don't want to take a position at this point in time but trust me there will be a big debate… look at the irony of this, all the duplicity," Jagdeo told a press conference on Wednesday at Freedom House, Georgetown.
"I don't have a problem ensuring that people who have served their country live in a particular way because it is affordable but I have to discuss this with our Members of Parliament," he added.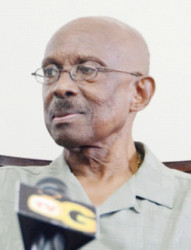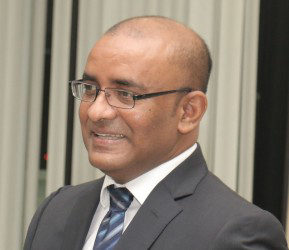 The Prime Minister Hamilton Green Pension Bill 2016, which will be read for the first time in the National Assembly next Monday, provides for Green to be paid a pension "based on the salary paid to the Prime Minister, as though he actually earned the said salary, taking into consideration his record of service as a legislator."
It also provides for Green to receive all benefits provided for under the Former President (Benefits and Other Facilities) Act 2015.
Jagdeo asked why government was making the bill specific to Green. "What contributions did Hamilton Green make to Guyana?" he questioned, while saying that if government can demonstrate that Green needs the benefits, he would have no issue as he too had had bills laid of a similar nature.
Pointing to the empathy his party has for persons who held high office, he cited the widow of former president Desmond Hoyte, Joyce Hoyte, and noted that his administration was instrumental in ensuring she received the benefits as the spouse of a deceased president.
Jagdeo said under his tenure as president, Mrs Hoyte, who was getting a paltry pension after her husband died, ended up getting about $500,000 a month as well as a security detail and payment of utilities after he enacted a bill his party crafted and tabled.
He also noted that when his party advanced the Former President's Benefits Bill in the National Assembly, there was much criticism and the parties comprising the current government was very vocal in denouncing the move. "I recall the entire period running up to the elections, both 2011 and 2015, where my pension was a central issue in pointing out evidence of a corrupt PPP. [Prime Minister Moses] Nagamootoo and [Public Security Minister Khemraj] Ramjattan, almost every single week, spoke about this issue… other members from APNU also made a big issue about it," Jagdeo stressed. "So, suddenly, not being able to afford for Jagdeo, they cut our benefits and increased [those of] twenty-seven ministers, three vice-presidents, a Prime Minister (and) a President when they got into office and people are just looking at salaries," he added.
He said that government was deceitful in claiming the benefits for Green, who was also Mayor of Georgetown, as he collects benefits from the offices of the Mayor and City Council. "So, we now suddenly see these benefits and I don't understand, the city council gave all these benefits… Hamilton Green enjoys all these benefits, way more than what I would have got and now the government has taken this over. Is this not duplicitous? Aren't they doing exactly what they accused us of and even worse? Isn't this just a rape of the treasury?" he posited.
But Green, who served as Mayor from 1994 to 2015, says he has been relying on the largesse of his wife and children. Presently, he receives $100,000 in pension as a former parliamentarian.
Asked about benefits he receives as a former mayor, Green said that the stipend was "nothing to brag about," while noting that it was some $30,000 to $40,000. "If it wasn't for my wife and children, where would I be? I am not ashamed to say it: I have been able to maintain a certain level of living thanks to them," he told Stabroek News. PPP Executive and former attorney-general Anil Nandlall has criticised the bill and raised concerns about the fact that the pension was pegged to the salary of the current Prime Minister and that he was being afforded all the benefits of a former President, inclusive of the services of clerical and technical staff.
Nagamootoo receives $20,580,000 annually after an over $2M increase in 2015. His monthly salary is more than $1.7M.
Jagdeo reasoned that the bill was for Green alone because Nagamootoo already collects a pension on par with that of him. He said that from his own calculations, Nagamootoo costs the state some $11.2M per month or if calculated over five years $675M.
Jagdeo criticised government for its double standards, saying that they would have set what they would make in pensions and benefits. "[Former president Donald] Ramotar gets the same benefits I get, Sam Hinds the same benefits…and President Granger will get those benefits too. APNU and the others said that they could not afford those things, that it was too much for the country to bear, that Jagdeo took all these things for himself and the presidents and it is too much, too costly. How did they respond to that? They reduced some of the benefits and there is a court case now in relation to that," he said.
"The next thing they did was to increase their own salaries. Now the Prime Minister gets a salary of $1.7M a month, so his pension, because he is not head of state or prime minister but has been a member of parliament for more than 12 years …you get seven-eights of your salary as a pension. So, Nagamootoo's pension now would be big as mine. Nagamootoo will get the pension I would get and that was after six weeks in office. Fixed their pensions for the future because they know with this big increase their salaries that they had, they will now get pensions in the future," he added.
Around the Web