An office assistant attached to the Kaieteur News died yesterday morning, hours after he was involved in a head-on collision involving a car along the Houston Public Road, East Bank Demerara.
Dead is Harry Brijmohan, 26, of Patentia Housing Scheme, West Bank Demerara.
The accident occurred around 7.15 am yesterday, while Brijmohan was heading home from work. He sustained severe head injuries, a dislocated shoulder and a broken foot and was taken to the Georgetown Public Hopsital (GPH), where he died around 12.45 pm.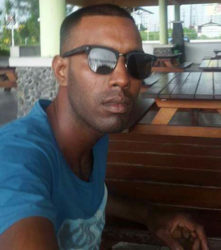 The Guyana Police Force, in a press statement, said that owing to the heavy congestion of vehicles during the early morning hours, vehicles are allowed to proceed north on the western carriageway of the road.
The police said enquiries into the accident disclosed that Brijmohan was riding his motorcycle CG 5075 proceeding south between two lanes of vehicles, which were proceeding north and south respectively, when he lost control and collided with the front of motor car PPP 7887.
As a result of the impact, Brijmohan fell on the roadway. He was taken to the hospital, where he subsequently died.
The driver of the car was taken into custody.
Brijmohan's fiancée, Zena Henry when contacted by Stabroek News explained that she became worried yesterday morning after 7 am passed and he had not returned home. She said it was customary that he would return home from work at that time.  She said she received a call from one of his colleagues at work informing her of the accident. "He called me and told me about the accident and say that I should go right now to the hospital," Henry said.
Henry explained that when she received the call, she thought it was a minor accident until she reached the hospital, where she found Brijmohan lying on a bed in the Accident and Emergency Unit (A&EU) breathing through a ventilator.
Henry related that based on what she was told, Brijmohan had just shifted from one side of the lane to another when he colldied with the car, which was proceeding in the opposite direction. According to her, the collison could have been avoided if Brijmoahn was aware of the change in the road arrangements or if there had been any indication of such.
He was described as a very quiet and jovial individual.
Around the Web