Georgetown Magistrate Fabayo Azore is expected to rule on December 1st on a no-case submission made on behalf of Manx Powers, the driver who is accused of causing the death of former world champion boxer Andrew 'Six Head' Lewis.
Police Prosecutor Stephen Telford yesterday replied to the no-case submission made by Powers' attorney, Peter Hugh, in relation to the causing death by dangerous driving charge against Powers.
It is alleged that on May 4th, 2015, at New Hope Public Road, East Bank Demerara, Powers, of
Campbellville Housing Scheme, drove PNN 596 in a manner dangerous to the public, thereby causing the death of Lewis.
On the day of the accident, it is alleged that Lewis was attempting to cross the road on a bicycle when he was struck down by the car driven by Powers.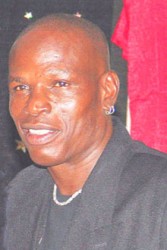 He was later picked up by an ambulance that was passing and rushed to the Diamond Diagnostic Hospital, where he was pronounced dead on arrival.
Hugh had claimed that Lewis was to be blamed for the accident and that there was insufficient evidence led by the prosecution to have his client lead a defence.
Around the Web