Milton Van Lewin, who was allegedly found with a gun and ammunition at a New Amsterdam house on Tuesday, was yesterday refused bail on two charges.
Van Lewin, 27, pleaded not guilty when he appeared before Magistrate Marisa Mittelholzer to answer to the charges of having in his possession a Taurus pistol and ten live .38 rounds on November 15th without being the holder of a firearm licence, at Mount Sinai, New Amsterdam.
Police had previously said they went to the Mount Sinai house after discovering suspected robber Rondell Marks, also known as 'Romel Hoppie' and 'Blackie,' at a farmhouse owned by the homeowner. Marks was killed in a shootout with police at the farmhouse. In addition to the gun and ammunition found at the Mount Sinai House, police had reported that they also found a laptop, seven cellular phones, and a pair of binoculars.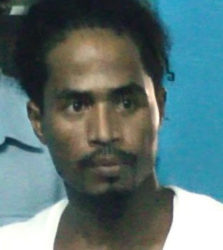 Van Lewin, a chainsaw operator, was represented by attorney Horatio Edmonson during the hearing yesterday at the Albion Magistrate's Court.
Edmonson told the court that his client had come to New Amsterdam the evening before from Sand Hills, in the Berbice River. He then noted that the police are aware that the house where the items were discovered is owned by someone else and his client was just a visitor. However, the magistrate then pointed out that there are no facts to substantiate that claim.
According to the Police Prosecutor Orin Joseph, the house is shared between the accused and someone else. Joseph told the court that the police informed Van Lewin that they were carrying out a search and requested that he point out the part of the home that he was occupying. According to the prosecutor, ranks were taken to a bedroom and it was there that the gun and ammunition were discovered. Joseph then argued that bail could only be granted if there is a special reason and that none was given by the defence.
The magistrate then refused bail and stated that the defence did not give a clear address since Sand Hills, Berbice River was too vague. Van Lewin is to return to court on December 16th,  when the case will be called at the New Amsterdam Magistrate's Court.
Around the Web