A Queenstown fruits vendor was on Friday afternoon robbed by a lone gunman who made good his escape with the day's sales.
The attack on Global Fruits Mart located at Lot 248 Oronoque Street, Queenstown, Georgetown has raised more concerns about the increase in armed robberies committed mainly on business persons.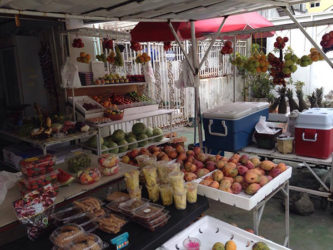 The incident which occurred about 4.15 pm was captured on surveillance cameras which monitor the business. A police investigation has been launched and up to yesterday afternoon no arrest had been made.
Owner of the stand, Hicky (only name given), explained to Stabroek News that he had just completed a business transaction with a supplier when the gunman walked into the stall and held him at gunpoint. "I was standing right in front the stall, a little in the building and he just walk up to me, placed the gun to my face and push his hand in my pocket taking out the money," he said.
He related that the gunman walked calmly towards Forshaw Street after the robbery and escaped on foot.
During the ordeal which took place within seconds, there was no customer at the stand. The police were alerted and they arrived on the scene minutes after the incident.
The fruits vendor is of the opinion that the gunman was eyeing him for a while and was waiting for the stall to clear of people to carry out the robbery.
He is calling on the government and relevant authorities to pay more attention to the security of citizens especially business persons as the holiday season approaches.
Around the Web