When 31-year-old long-distance runner Cleveland Forde walked across the stage last weekend to receive his Bachelor in Business Management (with Distinction) degree from the University of Guyana he did so with pride, but foremost on the athlete's mind was all that he still wants to achieve in his sports career.
For Forde, graduating was a must as according to him, being in the sports arena he is constantly reminded that a balance must be struck between one's sports career and one's education. This constant reminder had such an impact that he believes his first certificate—a Diploma of Management of Information System read through the Institute for the Management of Information Systems (headquartered in the UK) in Kenya—was done solely to fulfil this expectation to the disadvantage of his training.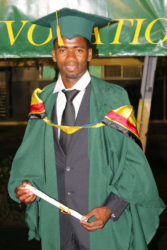 "I was in Kenya to train but I was also studying and so sometimes when I am supposed to be sleeping I was studying and I know at least one of much coaches did not like that at all," Forde said revealing that he believed it affected him taking full advantage of the training afforded to him in the country that is known to produce some of the world's greatest long distance runners.
In a sit down with the Sunday Stabroek, Forde, who apart from graduating with a distinction also received the K Juman-Yassin medal, said he was not where he wanted to be in his athletic career. With "four to five" years remaining he said he wants to maximize whatever opportunities come his way as his ultimate goal is to make the Olympic finals in 2020.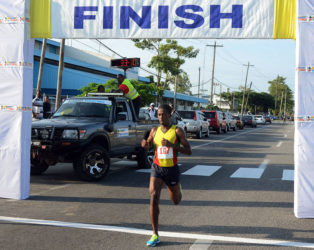 The soft-spoken Guyanese distance runner, who has represented the country regionally and internationally, paused before he answered each question as he indicated that while he does not speak much he wanted to ensure that whatever he said, "is what I wanted to say."
Asked about life after the degree, he said, "When I am finished with athletics I am finished with athletics. So right now I am going to focus all my energies there."
However, once his athletics career ends he would be looking to go into business.
Challenging
Forde described his university years as challenging since it was sometimes difficult to strike the balance between his studies and his training but he never allowed it to dissuade him.
"That is what I wanted. So you just find ways to do it. You work around all you have to do. A lot of times I wanted to be in class and I couldn't because I chose to be in some competition and sometimes I didn't go and compete because I wanted to write my exams," he explained matter-of-factly.
It was with a sense of accomplishment that he received his certificate but for him the journey "has just started" as he would be "thinking about a Masters later." He recalled that Attorney Kiev Chesney, a former sports journalist, and his eldest brother were the ones behind him to enter university and once he made the decision, the support—including his tuition being paid—was great as many persons stepped in to make it happen.
Dubbed 'Little Kenyan', because of the  years he spent training in that country, Forde said his athletics days started as a student at the Mabaruma Primary School and later continued at the Port Kaituma Secondary School where he started to train.
"I would see the others so exhausted lying on the ground whenever we went for a run and I would be there wanting to go for more. From then I knew there was more…," he said modestly.
At Port Kaituma, Forde said, he received tremendous support before moving to Georgetown where he attended St Mary's and then Richard Ishmael. His story is one of self-determination as he pushed himself to the maximum at all times. While he knew he wanted to complete his secondary school successfully, he also wanted a successful athletic career.
"Sometimes I would train three times a day. The coach would say two times, but I would train in the morning, go to school, train in the midday then train in the afternoons because I just wanted to do more," he recalled.
As the time for him to write the Caribbean Secondary Education Certificate examinations approached, he reduced the training and focused more on his studies. It was after secondary school that he was offered the opportunity to train in Kenya by President of the Guyana Olympic Association K A Juman-Yassin.
Asked about his stay in Kenya, he said the "training was great but administration wise… I don't want to talk about it. But the coach was not just a coach, he was more like a mentor." He said he wished he could have had two stints of the training programme.
And while not saying it directly he did express concern over the way athletes and sports personalities in general are treated, describing it as "one sided."
He explained, "If I go to someone for some sort of sponsorship and I get the sponsorship and they get their mileage, I see that as win, win. But that's not how it is viewed here. And on the wider side of it, in general from the government level, business and the association if everybody collaborates then you would see results." For him the collaboration is not seen and persons, especially businesses, view sponsorship as benefiting only the athletes.
Always the careful speaker, Forde, with a slight shake of the head and a small laugh, said "Anyway, I don't want to talk about it." He has to think about tomorrow.
What he did say however, is that fact that there is need for a policy that sets long-term goals for athletes, maybe focusing on a few athletes from an early age and helping them to develop so that others would want to emulate them.
"You need to plan ahead, plan visionary stuff. What you see in Jamaica now is not something that started yesterday, but since the eighties and it started through the schools and so you are working with junior athletes and when they get to the senior stage you work with them as well. Normally what you see is that they work with the juniors and when they become seniors nobody cares …," noted that the World Championships and the Olympics happen when you become a senior and as such he does not understand why athletes are "let go" when they become seniors. "They need to have a good transition from junior to senior," he added.
'Nowhere near'
"I am nowhere near where I want to be," Forde said, when he was asked to talk about his accomplishments. He believes had he been in the right place doing the right training, by this time he would have "at least been in an Olympics final.
That is what I wanted being in Kenya training." Now in hindsight, he feels he should not have studied at that time but used all of his time to train as he believes his studies hampered his training.
He did indicate however, that it was his initiative to pursue the diploma, because he was always told not to forget his studies. "If I had to do it again I would have just trained because afterwards you can study," he said.
"But I still want to do the best I can now and I am still thinking about a high altitude training somewhere.     And I am thinking we can do it in stages and when I say we, I mean me, the athletic association, the Olympic association and the ministry."
This training is more often offered in some of the African countries and Forde believes he needs this if he is to be successful in the South American, Pan American and Commonwealth games, the World Championships and ultimately the Olympics.
Speaking to young athletes Forde advises that they remain focused and not "get distracted by little things especially administration wise…be respectful and be determined."
With administration and respect in the same sentence Forde admits that he is saying a lot while not spelling it out but said "hopefully they can read between the lines and I don't have to spell it out.
"Know what you want and go for it. When you want it and you really want it you create a way, find a way. But first you have to love what you do and then you will love the training at least for me that is how it is."
When he is not injured Forde trains six days a week doing more than one session per day. He believes he does not need to remind them about their studies because they will be hearing this all the time because "I have been hearing about it all the time," he said with a laugh.
Among his accomplishments Forde has won the Carifita Games 5,000m race three times. He has also won the South American under-23 5,000m race and placed second in the 1,500m at the same meet.
He is the holder of the national records in the 5,000m and 1,500m. He has also won the Neal and Massy Guyana 10km road race for six consecutive years. On local soil he would compete in about three meets on the track and another four on the road yearly.
Forde is the third of seven boys and he jokingly said his mother has "been looking for that girl but the girl never came."
Around the Web