The Guyana Human Rights Association (GHRA) yesterday condemned the APNU+AFC government's move to secure a lucrative pension package for former PNC Prime Minister Hamilton Green, while saying it is an insult to taxpayers to upkeep a politician that helped to sow ethnic divisions that continue to plague the country.
In a searing statement that was issued yesterday afternoon, the GHRA called the government's proposed Hamilton Green Pension Bill 2016, which is due for first reading in the National Assembly tomorrow, "obnoxious" and a product of "cronyism."
"The Prime Minister Hamilton Green Pension Bill 2016 on the Order Paper is utterly shocking. His entire political career reflects the attributes that have kept Guyana ethnically polarized and, for this reason, securely anchored at the bottom of all Caribbean indicators of social and economic progress in the modern era. As a young and ruthless politician in the early 1960s his name figured prominently in the violence from which this society has still to recover," the GHRA said, while calling on government to not submit the bill.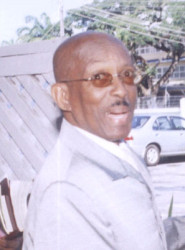 The bill provides for Green to be paid a pension "based on the salary paid to the Prime Minister, as though he actually earned the said salary, taking into consideration his record of service as a legislator." It also provides for Green to receive all benefits provided for under the Former President (Benefits and Other Facilities) Act 2015.
The pension would ensure that Green, the former Mayor of Georgetown, lives in accordance with the "high office" he occupied between 1985 and 1992.
In its statement, GHRA noted that if the bill is enacted, Green would receive an annual pension of $20,580,000, others benefits to the value of $3.1M annually, two vehicles provided and maintained by the state and two first-class annual airfares provided by the state. It also noted that Green already qualifies for a parliamentary pension together with whatever benefits accrue from his period as Mayor of Georgetown.
Against this background, it registered its shock at the bill.
The GHRA pointed out that during the 1970s and 1980s, Green was a leading government figure in the "political repression" that led to Guyana heading the list of countries with the most refugee applications to Canada as well as the mass exodus of Guyanese of all backgrounds.
"Those years saw bizarre hardships imposed on the Guyanese people including being criminalized for possession of onions and garlic, blocks-long queues around gas stations due to gasoline shortages and outbreaks of beri-beri," it said.
Green, as Mayor of Georgetown, it added, presided over the city's "physical decay" over the last two decades.
However, the GHRA pointed out that Green, now over 80 years old and despite a career marked by "incompetence and divisiveness," was appointed Chairman of the Board of Directors of the Central  Housing and Planning Authority  (CH&PA).
"Thanks to the legacy of economic and social turmoil for which he and other leaders were responsible it is ironic that Guyanese of the same age group as Hamilton Green are now condemned to live on old-age pensions of G$17,000 while he complains at having to eke out a living on his pension of G$100,000 plus his benefits from being Mayor," it said.
In arguing for the bill not to be proceeded with, GHRA called it insulting to Guyanese taxpayers of the current generation "to shoulder the burden of excessive pension for people who have so curtailed this generation's life chances."
It added that there is no justification for the bill beyond "cronyism" and noted that to date Green has "never apologized for the humiliation, hardship and violence to which the Guyanese people were subjected during his harrowing term of office." It said that had late President Cheddi Jagan in 1992 "not 'drawn a veil' over the past in the interests of social peace, Mr. Green might have found himself facing the courts."
It further said that a personalized bill to reward Green for a "lifetime of politics marked by incompetence and divisiveness" is provocative in the context of the current administration's anti-corruption campaign. "The Guyanese Parliament is still to distinguish itself for the quality of its contribution to public life. If the Bill under discussion is entertained, its reputation would be further eroded by the ridicule it would justly attract," it said.
The GHRA also argued that the notion, reflected by the bill, that former presidents and senior politicians "deserve to be treated as 'Princes of the City' with excessive pensions, and benefits reinforces rather than undermines the repugnant notion that the purpose of politics is to enrich politicians."
Stabroek News was unable to secure a comment from either Minister of Finance Jordan or APNU+AFC Chief Whip Amna Ally on the bill.
However, the bill has already drawn the criticism of the opposition People's Progressive Party/Civic (PPP/C), with former Attorney General Anil Nandlall describing it as the "greatest act of hypocrisy in modern day politics."
"It is completely unnecessary; an utter waste of taxpayers' money and hypocritical of a coalition which promised clean and lean government with no cronyism," Nandlall told Stabroek News last week.
He argued that Green demitted office an entire generation ago, before most of those now paying taxes in Guyana were born, so it is unfair to now ask that his pension be financed by their taxes at this late stage.
WPA member Tacuma Ogunseye, in a letter to the editor of this newspaper, said that Green should not be singled out for treatment and that the bill should be in the name of former prime ministers.
"This recklessness gives the opposition PPP/C the ammunition they need to continue their relentless attacks on the APNU+AFC government. I can't
understand why the cabinet would make such a controversial decision, particularly in light of its failure to reach an amicable agreement with the public servants and their representatives," he wrote.
However, Green has welcomed the bill as "timely, just, fair, and in order," while noting that he has been living skimpily on the largesse of his wife and children.
Asked about benefits he receives as a former mayor, Green said that the stipend was "nothing to brag about," while noting that it was some $30,000 to $40,000. "If it wasn't for my wife and children, where would I be? I am not ashamed to say it: I have been able to maintain a certain level of living thanks to them," he told Stabroek News.
He did, however, noted that the bill should not have been made specific to him but all Prime Ministers, while pointing out that when the PPP/C enacted the legislation on the benefits for former presidents, it did not include the Prime Minister. "I don't know why but probably because there was [former Prime Minister] Sam Hinds that would have served as president himself and would have benefitted from the president's benefits anyhow. Only PPP members benefit from that bill, you have [former President Bharrat] Jagdeo, Hinds and [former President Donald] Ramotar," he told Stabroek News.
Green is of the view that every former Prime Minister should get the benefits, in keeping with the global practices, to enjoy a level of comfort that they had while in the post. He also said that benefits for former ministers and parliamentarians should also be addressed.
Around the Web