By Jonelle Fields
A Tuschen Housing Scheme man died after he was stabbed in the neck by a sixteen-year-old on Saturday night following a confrontation over a woman at Eccles.
Excavator operator, Intiaz Ally, 23, was fatally stabbed after he attacked the 16-year-old, the police say. According to the police, Nicole Indal, Ally's girlfriend was on her way home from work in the company of the 16-year-old who was riding a bicycle alongside her as he routinely does. At the time the suspect was carrying the woman's bag which had a ten-inch `Rambo' knife.
The police say it was alleged that as they were proceeding in a northern direction, Ally who was driving motor car PSS 2435, struck down the suspect who got up and began to run but was apprehended by Ally who started to beat him. The suspect who was still in possession of the bag, took out the knife and allegedly inflicted a wound to the left side of Ally's neck, the police said. Ally collapsed and was rushed to the GPHC by a friend, but was pronounced dead on arrival. The 16-year-old has since been taken into custody and the alleged murder weapon has been retrieved, the police said.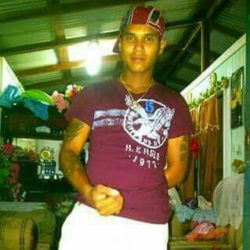 Indal told Stabroek News from her home yesterday, not far from where the murder took place, that Ally left Parika, East Bank Essequibo where he was drinking with friends to come and fight the sixteen-year-old who she said she had no relationship with.
Indal said that she and Ally had been in a relationship for a year and three months but were on and off for the latter part of it.  She said that she and the deceased tried to work through the problems in their relationship but persons were whispering words into Ally's ear that she was involved with a sixteen-year-old.  Indal said that the teen would be around her since she works at an internet shop which has Wi-Fi.
Indal, who was in tears when she spoke to this newspaper, said that around 10:30 pm on Saturday, a group comprising her, her sister, nephews and the sixteen-year-old were walking home when her sister noticed a silver grey, Toyota Aventis parked along the road. Indal said she confirmed it was Ally's car and told the sixteen-year-old who was on his bicycle to ride away and to avoid Ally. The woman said that Ally's car accelerated towards them and reversed, and accelerated again. She said that everyone in the group stated to panic.
"Intiaz and two other boys then come out the car and he [Intiaz] run to this boy and start to cuff him up", Indal said. She said that she screamed and begged  her boyfriend to stop and it was not until his friends intervened that he was restrained from punching the sixteen-year-old. Indal said the fight did not end there as Ally managed to break free from his friends and went back to hitting the youth. She said it was at that point the youth managed one blow at Ally and did so with the knife.
"When he stab, he see blood, he drop the knife, he run to Intiaz to help stop the bleeding, is like he can't believe he stab him" indal said while in tears. "To me it was a frighten knock, he did not like do it wilfully to kill anybody, he was hustling to go home after Intiaz done say he coming", Indal said. She explained that the teen had gotten the knife from her bag.
"It was my knife, I would get it in my bag because, I would usually walk on the road late coming home from work, and in here had some robberies so I had it for protection", Indal said.   She added that the teen had her bag when they were going home, as he would normally do. "He must have known that I had it in my bag", Indal told Stabroek News.
Indal said after the stabbing it was around 20 minutes before they could have rushed Ally to the hospital where he was pronounced dead on arrival. She said that an off-duty policeman came up and questioned them when all they wanted to do was to rush her boyfriend to the hospital.
Controlling  
Indal told Stabroek News that her relationship with the deceased was an abusive one. She said that a few nights ago, Ally had hit her about her body after he heard the rumours that she was with the teen, whom he had known for a while. She said her cell phone would normally cause a conflict between the two of them since he would run through her phone to view pictures and to read her messages. Indal said she wanted things to work between her and her boyfriend but he was too controlling.
"He don't like when I talk with people or be around people", she said.     Indal said that a few hours before Ally died, he had called her on her cell phone to speak to the lad. She said that he had asked him if his skin was tough enough to take a knock. The woman said that after she realized what Ally was telling the teen, she took back her phone and tried to talk him out of coming to Eccles to attack the teen. She said Ally told her that he was coming to 'done her and the boy dance' and he was coming with people.
The 16-year-old's mother was of the view that her son and Indal were in a relationship. The mother said that she had warned her son about having a relationship with a woman who was ten years older than him.
"I told him, I said `boy why you want a relationship with a woman older than you', and he tell me how he love the woman", the mother said.  She said that she would try and talk him out of the relationship but he never listened to her. According to the mother of the teen, she only saw the woman once. She said that she has also seen pictures of the woman in her son's phone. The mother further explained that one night her son came home and told her that Indal's boyfriend had beaten her and left marks about her body. The mother said it was at this point she begged her son to get out of the relationship before he got hurt.
The teen's sister who was also there when Stabroek News visited, said that she was angry with her mother for letting her brother date the older woman. She said her brother would hide the relationship from her. The sister said that she cannot believe that Indal said that she never shared a relationship with her brother.
The teen's family maintained that he was only defending himself. They said what they have learnt is that Ally was waiting for him. "We hear he knock him down twice and then chase after him and they beat him up", the mother said. The sister told Stabroek News that her brother, who is a hard worker at the community's wash bay was never a troublemaker but would try to defend himself if challenged.
Around the Web