Increases in violent crime and other mounting security concerns in the Caribbean region call for a collective approach, Attorney General and Minister of Home Affairs of Barbados Adriel Brathwaite said yesterday, while he also lamented the lack of financial commitments to combat the situation.
"It is not a problem for Guyana. It is not a problem for Trinidad. It is not a problem for Barbados. It is a collective problem, because we're all seeing it [and] we need to address this in terms of why are we as a region seeing an increase use of firearms… throughout our region, a region that does not produce guns of any kind," Brathwaite stated during his address at the opening ceremony of 17th meeting for the Council for National Security and Law Enforcement (CONSLE) at the Caricom Secretariat at Turkeyen.
Brathwaite, who is Chairman of the CONSLE, said that the meeting comes at a time when the region is "very concerned about where we are going as a region because not one of us isn't at this point in time faced with the increased crime and increased violent crime."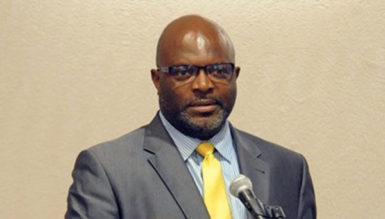 He said it was regrettable that in some jurisdictions the matter has turned into a political issue. "That rather than having … [an] approach collectively and individually, we've made this in some places into a political issue. It's not a political issue. That is fundamental to the way of life to all of our people and none of us can do this alone. Not one party, not one government… that is why it is important for us when we leave here, we leave addressing some very serious and critical issues," he stressed.
Braithwaite raised the issue of gangs and whether they are operating across the region and not only in their individual countries. This, he said, needs to be addressed. He pointed out that in most of the Caricom territories, what is being seen is not only an increased in the number of violent crimes where firearms are used but also an increase in the use of firearms from a number of sources. He said that based on what he has gathered, more powerful weapons are being used.
He also questioned whether this increase of crime may be linked to the free movement of people. "What are the causes? Whatever the causes are we need to utilize the best resources we have. We need to utilize our individual entities. We need to utilize our regional entities," he said.
He said that many of the regional entities are still challenged financially. "We have linked crime and security as the fourth pillar of our Caricom strategy yet for some reason, as a region, we seem unable to provide the resources—either unable or unwilling to provide the resources necessary—to address crime and security in the region," he stressed.
To make his case, he argued there can be no sustainable oil and gas industry in Trinidad if crime is out of control. The same exists for other industries across the region, he said. "Unless we are able to control crime in our individual and collective countries, we are going to be challenged financially, continuously. I have been saying for years that it is no use Barbados being stable and St Vincent having challenges; no use Guyana being stable and Jamaica having challenges because the international community looks at us as a region," he stated, while adding that no Caricom leader can be happy if any of the other countries are facing challenges.
Guyana's Minister of Public Security Khemraj Ramjattan, in brief remarks, said the matters to be addressed are "many" and "monumental." He noted that CONSLE will promote the development and implementation of a common regional security strategy to complement national security strategies to combat threats to regional and national security.
At the same time, he acknowledged a "paralyzing myth" in the region that effective security and law enforcement measures are impossible to be successfully realized. "…It does seem no matter what we do, our people see our security and law enforcement sector as populated purely for predatory purposes and irredeemable committed to the ways of anility and violence," he noted.
He said that security and law enforcement agencies in individual countries must halt "this erroneous perception of our people concerning this important security sector. It is like the glass ceiling we have to break. We have to create a virtuous circle through programmes and create champions on the ground rather than a vicious cycle where villainy is exalted."
Ramjattan added that Caricom leaders have the task and responsibility to "lead our people out of this negative habit… that crime and corruption is culture… it is not. Crime and corruption are choices and bad ones at that, which they must never condone."
More urgent
Heads of Government at their Inter-Sessional Meeting in Belize last February adopted a Protocol to incorporate CONSLE as an organ of the Community and the Caricom Implementation Agency for Crime and Security (IMPACS) as an institution of the community.
So far, only Guyana, Saint Lucia and Trinidad and Tobago have signed on.
Secretary General of Caricom Ambassador Irwin LaRocque also called for a collective approach to crime and security in the region.
"While we appreciate the financial and other assistance provided by Third States, I cannot emphasise enough that the onus is on us, collectively, to demonstrate that we are indeed serious about our own security," he said.
He said the one-day meeting would examine the issues surrounding commitment to the financing of the regional security architecture, which is very important to ensuring the success of the development efforts in all other spheres. In that context, he underscored the important role of IMPACS, which he said is the hub of the regional crime and security framework, along with its sub-agencies, the Joint Regional Communications Centre (JRCC) and the Regional Intelligence Fusion Centre (RIFC).
"Every effort ought to be made to ensure that the agency continues to carry out its crucial role. Even in the face of the financial challenges which beset our governments, we must strive to support our security architecture while we seek to finalize a financial plan that redounds to the benefit of all regional institutions," LaRocque stressed.
He said that the meeting is an indication of the seriousness with which member states view security and is also a measure of the confidence that a regional approach to addressing issues of security will redound to the benefit of individual members.
He added that given the present environment in many of the member states, the community's work in the area of crime and security has become "more urgent." The issues to be dealt with, he said, are myriad, from the upward trend in the incidence of crime and violence taking a toll on valuable human resources, to the external threats which challenge regional peace and security.
"In light of these threats, we must deepen our resolve and remain committed to the task of further strengthening our regional security architecture through our individual and collective action," he said even as he informed that during their Thirty-Seventh Meeting, held in Guyana last July, Heads of Government devoted much of their time to deliberations pertaining to the security of the region.
With regard to the request that priority be given to the Caricom Arrest Warrant Treaty, LaRocque informed that the Legal Affairs Committee has set in train efforts to have that Agreement finalized for adoption at the 28th Inter-Sessional Meeting of the Conference of Heads of Government in February, 2017, to be held in Guyana.
He said that there are other legal instruments related to mutual legal assistance, airspace and maritime security and the Advanced Passenger Information System, which have been languishing for far too long. "I urge the members of this Council to brief their Attorneys-General on the policy imperatives of concluding these outstanding items so critical to supporting our security architecture. The need for those instruments has been recognised at the highest levels of our community," he charged.
He noted that there are other initiatives being pursued and that he was looking forward to the imminent review of the Caricom Crime and Security Strategy, which could lead to a reconfiguration and amplification of initiatives designed to address the emerging threats which loom larger by the day.
Around the Web