A 60-month sentence and an $80 million fine were yesterday handed down to each of the two men who were held last year with almost 130 pounds of cannabis after a shootout with police in Kitty.
Fawad Hamid, of Rosignol, Berbice, and Mark Douglas, of Number 3 Village, West Coast Berbice, were sentenced and fined at the conclusion of their trial yesterday by Georgetown Magistrate Judy Latchman.
The charge against the duo stated that on March 12, 2015, at David Street, Kitty they had 58.843 kilogrammes (equivalent to over 129 pounds) of cannabis in their possession for trafficking.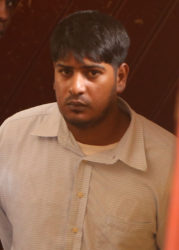 Magistrate Latchman stated that she found that the defendants had knowledge, possession and control of the illicit drugs for the purpose of trafficking.
Attorney Mark Waldron, who appeared on behalf of Hamid, also known as "Not Nice," had previously requested that Magistrate Latchman revisit her previous ruling on a statement taken from his client while under caution. It was alleged that Hamid, when cautioned on the day of his arrest, told police "a man give me the weed to bring to town and we did waiting for somebody to pick it up when the police come."
In revisiting her previous ruling, where she found that the statement was given freely and voluntarily, it was mentioned by the magistrate that she was unclear as to circumstances surrounding the statement being given, although she believed that no force was used during the process.
The court heard that Hamid was the one who chose a spot where he and Douglas had gone and that Douglas was clearing the way for Hamid.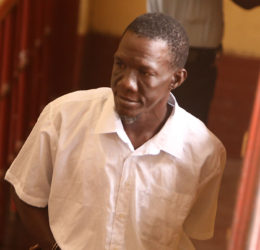 This was supported by a statement made by Douglas, who told police, "A man tell me fuh clear the way fuh 'Not Nice' pass with the weed and he go pay me $35,000."
The magistrate made it clear that she disbelieved that Hamid did not know that he was transporting cannabis. She also said she disbelieved that Douglas was assaulted by the police and that he had no knowledge of the drugs.
In mitigation, Douglas' attorney, Clyde Forde, noted that his client was 47 years old and has 11 children. Waldron only stated his client's age and requested a light sentence for his client.
Prior to sentencing the defendants, Magistrate Latchman gave a stern warning to each. Hamid was told that the crime he committed was "not a nice one" and he should not do it again.
Meanwhile, harsher words met Douglas. "You are 47 years old with 11 children; you should act and do better… have some wisdom," she told him.
Both Hamid and Douglas were then each sentenced to 60 months in jail and fined $80,764,500. Although the defendants were charged jointly with the offence, they will have to pay the fines separately.
Around the Web