Rolston Bacchus, who was charged with procuring two women to smuggle cocaine, was yesterday sentenced to three years in jail and fined $11.1 million for the crime.
Bacchus was found guilty of the crime at the conclusion of his trial yesterday in Georgetown.
The charge against Bacchus stated that between July 1 and November 5, 2015, in Georgetown, he procured Odessa Pollard and Kathleen De Florimonte to traffic 12.348 kilos of cocaine, at the Cheddi Jagan International Airport.
Pollard, who was an outgoing passenger on a Caribbean Airlines flight to Trinidad, was searched by Customs Anti-Narcotics Unit (CANU) ranks, who found the cocaine concealed in Kerrygold-brand packets of milk in her suitcase. De Florimonte, a security guard at the airport who allegedly tried to help Pollard board the flight with the illegal substance, was charged with intent to traffic the illicit drug.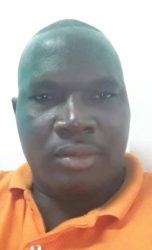 In his testimony, Bacchus stated that he did not know either of the women and that he had never met them before.
Trial Magistrate Fabayo Azore, however, stated that the court believed the evidence led by both De Florimonte and Pollard, through CANU Prosecutor Konyo Sandiford, since it was quite frank. According to the magistrate, the court had no knowledge that either of the defendant entered a plea bargaining deal with the office of the Director of Public Prosecutions, which would indicate that they had nothing to lose.
It was on these bases that the defendant was found guilty of the offence.
Attorney Mortimer Coddett opted not to say anything in mitigation but instead informed the court that he will be appealing the decision.
Bacchus was subsequently sentenced to three years and fined $11,113,200.
The defendant had also been charged alongside Mark Sauers with a similar offence but the charge against him was dismissed after the prosecution's star witness, Safraz Jallalodeen recanted his testimony and claimed that he had struck a deal with CANU to lie on the witness stand in exchange for a reduced sentence.
Around the Web