Patrick Goodluck and Collis Amos, who were captured and severely beaten by North Ruimveldt residents after a home invasion in August, will each be spending the next 24 months in jail after being found guilty of attempting to commit a felony.
The charge against Goodluck, 22, and Amos, 21, had stated that on August 17, at Georgetown, they attempted to rob Roger Lovell.
Amos was also found guilty and sentenced on a separate charge of being in possession of a .32 pistol without being a licensed firearm holder.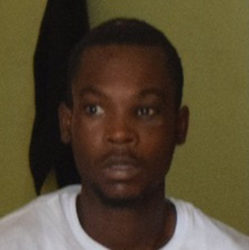 Georgetown Magistrate Judy Latchman handed down the sentences yesterday at the conclusion of the trial of the two men.
The magistrate noted that both defendants opted to give unsworn testimony. In Amos' testimony, he stated that he had sold Lovell two machines and was owed $20,000. He stated that on the day of the alleged crime, he went to Lovell's home for the money but Lovell cried for thief.
Goodluck, meanwhile, in his testimony, the magistrate noted, placed himself in the area and said that he was severely beaten. At his arraignment, his lawyer had claimed that his being attacked was due to a case of mistaken identity.
The magistrate stated that she disbelieved the evidence led by the defendants and acted on the evidence that Amos used his weapon and knocked Lovell over his head while demanding that he hand over all that he had.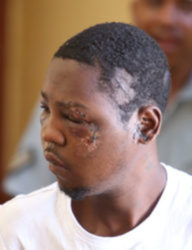 The defendants were found to have acted in concert and subsequently found guilty of the offence.
Magistrate Latchman also found Amos guilty of firearm possession based on the evidence led by the police.
In handing down the sentence for the attempting to commit a felony charge, the magistrate took into consideration that the defendants used a gun as well as violence during a home invasion.
Amos and Goodluck were subsequently sentenced to 24 months in jail.
Amos was sentenced to another two years for the firearm possession charge and fined $60,000. However, he will only spend two years in prison since the sentence will run concurrent to the other sentence.
Around the Web