Uganda has offered to assist Guyana in the development of its oil and gas sector and has advised that the creation of a legal framework be the first step.
Two Ugandan officials, Dozith Abeinomugisha, acting Assistant Commis-sioner Directorate of Petroleum, and Alex Nyombi, Senior Petroleum Geophysicist, are presently in Guyana. They have taken part in a two-day oil and gas seminar and had been meeting with officials of the Ministry of Natural Resources.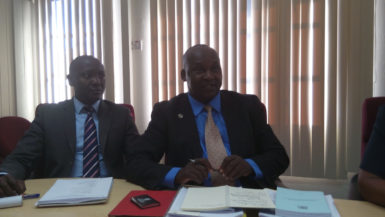 The ministry's legal officer Joanna Homer told reporters yesterday that the partnership was as a result of a recommendation made by the New Petroleum Producers' Group.
She explained that the group was set up and developed specifically for those countries that are either still exploring or those countries that are emerging into or are young in the production of petroleum. Guyana, she said, is a member of the group.
Homer stated that when Guyana attended a meeting in Kenya earlier this year, the discussions were tailored around Guyana having a particular partner/mentoring relationship with a country that is just ahead with regard to oil and gas. "Uganda is a little ahead of Guyana in that they have spent time carefully planning the development of their petroleum regulatory framework and also they have had some practical experiences and they are not so far away today from where we are," she said.
Traces of oil were found onshore in Uganda in 2006. Since then the country has been preparing.
According to Homer, the group recommended a Guyana/ Uganda partnership, which the Guyana government readily accepted. She said subsequently a team visited Uganda and met with energy officials.
She said that very soon government will make public a compendium of policies and laws for discussion and review.
Abeinomugisha told reporters that when the discovery of commercial hydrocarbons  in Uganda was made in 2006, the country's first thought was that it needed to put in place the judicial and institutional framework before moving forward.  "So from 2006, we have been doing that. We put in place a national oil and gas policy, after that we put in place the legal laws, then we put in place regulations, which will complete it this year. So, we have the policy, the laws and now we have the institutional framework," he said.
He explained that Uganda has not yet started production. "So probably that is why we are almost at the same level as you because we have not yet started commercial production, so we are working on our institutional and legal framework and hopefully now that we have finished that aspect, we shall go into production," he said.
He added that Uganda may be one step ahead of Guyana as it has already issued production licences to companies so that they can commence preparation for production. He said that Uganda while sharing its knowledge also hopes to learn from Guyana.
Abeinomugisha later said that the legal framework ought to be a thorough consultative process, which Uganda undertook. He added that the challenge the country had was that unlike Guyana its oil discovery is land based. "The production itself is challenging. For you, you have offshore, which is very easy to commercialize… but the first step you need to do is ensure that your legal framework is robust," he said.
He noted they have taken longer because they are faced with a landlocked onshore operation and the lack of commercialization options. Their main challenge, he said, is human capacity. "You need as a country to as quickly as possible to get your young men and women and train them in this sector. Human capacity is very critical," he said.
Meanwhile, Nyombi said that the oil discovery, while exciting, can present challenges. He said that the partnership between the two countries will be a learning experience.
Around the Web