Twenty-five young adults from the US Embassy's Youth Action Network (YAN) were recently able to benefit from a one day 'Youth Entrepreneurial Leadership Masterclass', the objective of which was to enhance their skill levels.
This is according to a statement issued by the US Embassy yesterday following the completion of the session two Saturdays ago.
According to the statement, the class was facilitated by founder of the Masterclass Institute, Dr Rosh Khan who engaged the young adults in activities pertinent to the areas of personal and professional development, leadership, strategic management, systems, psychology, marketing, personal and business finances and time management, among other topics.
Subsequent to this session are others that have already been planned with the aim of focusing on community development, design thinking, and public speaking.
The statement shared responses by some of those who attended the masterclass.
"The session and the quality of its content and delivery surpassed my expectations. As a young professional, I definitely walked away knowing much more than I did before. I'm so thankful I had the opportunity to learn and share in on the Masterclass Institute experience, with a cadre of open-minded young men and women. It's impossible not to put into practice what was learnt from Khan and his team," it quoted YAN member Dillon Dwayne Charles as saying.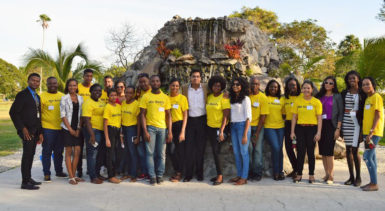 According to the statement, Kiamsha Carter, another member said, "It was such an enlightening experience that provided skills and tools for us to become the best possible version of ourselves. I can't wait for our follow-up session!"
Others like Sidonia Hamilton described it as an experience that every young person should have, while Lydia Beresford, another member described it as "a thought provoking session that is a must for both current and future leaders," the statement said.
The Masterclass Institute which facilitated the YAN Conference, was founded by Khan, a global entrepreneur and business and marketing consultant.
His organization is committed to the personal and professional development of individuals in Guyana and around the world. The Masterclass Institute can be reached at +592-225-1842 or www.masterclassinstitute.online.
Meanwhile, the YAN was established in 2013 as consolidated and more formalized two-way exchange between the Embassy and youths of Guyana
Under the theme 'Ready to Serve, Ready to Lead,' the YAN builds youth capacity and skills by teaching the value of service and empowering them to become dynamic leaders. The YAN provides opportunities to Guyanese youths for networking and training in order to enhance their leadership skills and professionalism. It brings together youths of diverse religious, ethnic, and socio-economic backgrounds to share their opinions and ideas about Guyana and its future.
The YAN in Guyana is part of a larger, global initiative. US Embassies around the world are establishing youth advisory councils as a mechanism to partner with emerging young leaders and address shared challenges. More than 50 per cent of the world's population is younger than 30, and the youth demographic will be a major driver of economic and social progress throughout the world. The YAN is designed to help young people become informed, active participants in their societies.
The group session was sponsored by the US Embassy's Public Affairs Section, the statement added.
Around the Web