People's National Congress Reform (PNCR) General Secretary Oscar Clarke says the pension package proposed for former Prime Minister Hamilton Green was brokered by his party while it was in government but the succeeding PPP/C administrations failed to act on it up to when it lost power last year.
The APNU+AFC coalition government has faced intense criticism for tabling of a bill to confer a pension to Green for his time in office as a Prime Minister in the PNC government from 1985 to 1992.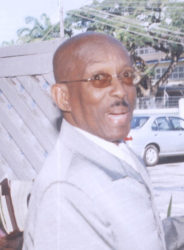 Questions have also been raised about whether a pension for Green had not been catered for under the PNC administration.
"Systems were put in place. The past government did not actualize those steps in relation to the Prime Minister's benefits but we still brokered it during our time and that is the reason it is happening now," Clarke told a press conference yesterday.
"There is a law in Parliament, during our time, giving presidents and prime ministers benefits but Mr. Green was not given the benefits. How do you think former Prime Minister [Sam] Hinds got his benefits? He got it as a result of the law that had been passed, which they operationalized in his interest, but not in the interest of Prime Minister Green, who had served during the time. The law is on the books. He was also a Prime Minister but he is getting the higher pension, which is the presidential pension," he added.
The Prime Minister Hamilton Green Pension Bill 2016 was written specifically for Green and provides for him to be paid a pension for his tenure as Prime Minister based on the salary of a current Prime Minister–a salary he did not earn. Green is to also receive the full benefits of a former president.
Clarke, however, said he did not believe that the bill should have been named solely for Green. He said it should have been so constructed to cater for benefits for all past and future Prime Ministers.
This is also the view of Prime Minister Moses Nagamootoo. "I totally agree with Prime Minister Nagamootoo," Clarke said.
The Guyana Human Rights Association (GHRA) is one of the two bodies—apart from the opposition—that have criticized the government for drafting the bill, which it labelled as "obnoxious." It called the bill an insult to taxpayers who are being asked to upkeep a politician who helped to sow ethnic divisions that continue to plague the country.
"His entire political career reflects the attributes that have kept Guyana ethnically polarized and, for this reason, securely anchored at the bottom of all Caribbean indicators of social and economic progress in the modern era. As a young and ruthless politician in the early 1960s his name figured prominently in the violence from which this society has still to recover," it said, while urging the government not to submit the bill.
It added that there is no justification for the bill beyond "cronyism" and noted that to date Green has "never apologized for the humiliation, hardship and violence to which the Guyanese people were subjected during his harrowing term of office." It said that had late president Cheddi Jagan in 1992 "not 'drawn a veil' over the past in the interests of social peace, Mr. Green might have found himself facing the courts."
On Sunday, the Transparency Institute of Guyana Inc. (TIGI) also called for the government to withdraw the bill, which it described as vulgar. "This bill for Mr. Green is vulgar, politically partisan and it reeks of cronyism. It appears that the PNC faction of the coalition government is seeking to financially take care of one of its own former strongmen through the public purse," TIGI declared in a statement.
But for Clarke and the PNCR, Green is most deserving of the benefits.  He reasoned, "Mr. Green was a minister of government since 1968, and served between 1968 and 1992 but more particularly as Prime Minister from 1985 to 1992. I think Mr. Green is more than entitled to benefits as Prime Minister," he said.
Around the Web