Deputy Regional Executive Officer of Region Three, Ameena Marlyne Hinds is scheduled to go on trial in a Houston, Texas, US court next month after the suitcase she had in her possession was found to contain what is believed to be cocaine.
She has been indicted on a charge of conspiracy to possess with the intent to distribute a controlled substance and has been ordered detained pending trial as she has been deemed a flight risk.
According to court documents seen by Stabroek News, Hinds arrived at 1.45 pm on October 29, 2016 at George Bush Intercontinental Airport in Houston on United Airlines flight 1250 from Port of Spain, Trinidad. Hinds was sent for a secondary inspection at 2.15 pm.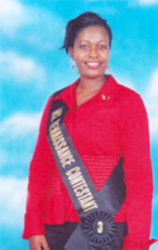 Customs and Border Protection (CPB) officer S. Martinez undertook the secondary inspection at around 3 pm and Hinds claimed ownership of the luggage. The court documents said that an x-ray examination of the suitcase at around 3.25 pm showed anomalies. The officer than inserted a metal probe into the wall and bottom of the suitcase and discovered a white, powdery substance that field tested positive for cocaine.
The court documents said that the CPB officer found what appeared to be packages of cocaine hidden in two sides of the suitcase behind the inner nylon lining. Hinds was then taken into custody and the suspected cocaine weighed. It amounted to 1.49 kilogrammes.
Hinds, according to the court documents, told Homeland Security Investigations (HSI)  that she was currently burdened by around US$5,000 of personal debt, has had difficulty meeting her obligations and debt collectors had been calling her for repayment. She said that in July this year, she was approached by an "unknown individual" who she described as `Mystery Man' and offered US$2,500 to take a suitcase with drugs to the US. She said that `Mystery Man' assured her that the drugs would be adequately concealed and that several other persons had successfully done it.
The court documents said that despite this assurance Hinds hesitated. She was contacted again by `Mystery Man' on October 26, 2016 and this time agreed to transport the drugs. She told HSI that she met a female in Guyana who gave her an envelope containing her ticket.
She said she then flew to Trinidad where she met `Mystery Man' and her suitcase was exchanged for one containing the drugs. She then flew from Trinidad to Houston on October 29. She further told investigators that `Mystery Man' had instructed that she travel to a hotel in New York where the suitcase would be collected from her.
Hinds' trial is set for December 19th, 2016.
Around the Web