Four men were yesterday charged with the murder of carpenter Faiyaz Narinedatt, while two women, including the mother of alleged mastermind Marcus Brian Bisram, were charged with offering a $4M bribe to the investigating police officer to not pursue the case.
Appearing before Chief Magistrate Ann McLennan in Georgetown were Radesh Motie, 39, Diodath Datt, 18, Harri Paul Parsram, 49, and Niran Yacoob, 37, who were read a charge which stated that between October 31 and November 1, 2016, at Number 70 Village, Berbice, they murdered Narinedatt.
Neither defendant was required to plead to the charge.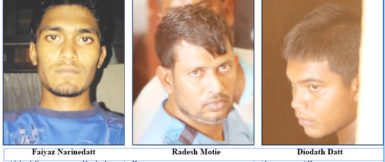 Police Prosecutor Neville Jeffers stated that the file was incomplete and requested two weeks for its completion. As a result, the quartet was remanded to prison until December 8, when the case is to be called at the Springlands Magistrate's Court.
On the eve of his death, Narinedatt had attended a party in Number 70 Village, which was hosted by Bisram, an overseas-based businessman, who allegedly made sexual advances towards him. Narinedatt reportedly rejected him and it is alleged that the businessman subsequently ordered his associates to kill the carpenter.
It is believed that the suspects, who were armed with several objects, dealt Narinedatt several lashes about his body until he fell unconscious. His body was then placed in the trunk of a car, driven to the Number 70 Village road and dumped.
Police are said to be making efforts to have Bisram returned to Guyana for questioning.

Meanwhile, Sharmila Inderjali, 45, who is Bisram's mother, and Maryanna Lionel, 25, a bank teller, were jointly charged with corruptly offering $4 million to police officer Kamal Pitama, on November 19, at Eve Leary, to forego charges against the quartet in custody for the murder and Bisram.
The duo pleaded not guilty to the charge.
The two women were represented by attorney Stanley Moore, who requested bail for his clients, while saying that they did not offer the police a bribe but were only attempting to secure bail for the four accused in Narinedatt's murder.
Prosecutor Jeffers, however, noted that a sting operation was set up and the two women offered the police $4 million for the four murder accused and to forego charges against Bisram.
He objected to bail based on the nature of the offence, the penalty it attracts and the fact that if the women were to be released on bail they may tamper with witnesses.
The court also heard that the case file was completed and a total of six witnesses are expected to testify for the police in the case against the women. Chief Magistrate McLennan subsequently remanded the two women to prison and adjourned the matter to November 28.
Around the Web