A 55-year-old farmer was yesterday jailed for cultivating cannabis, which he said he was growing in order to rebuild his house after it was burned.
John Antonio, who said he lost his house as well as three sons, lost his freedom yesterday when he was sentenced to three years in jail.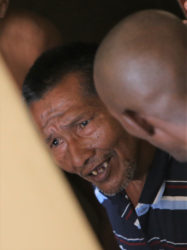 His wife, Diane Daniels, was also charged with the crime, but a not guilty plea was entered on her behalf after she said she had no knowledge of the cannabis plants.
"My house burned, my three sons died and I don't have a proper house. [I] was just trying to build a proper house for myself," Antonio said, after he was asked by Chief Magistrate Ann McLennan why he cultivated cannabis.
The charge against Antonio and Daniels stated that on November 19, at Hotoquai Village, in the North West District, they cultivated cannabis.
In addition to pleading guilty, Antonio supported his wife's claim that she had no knowledge of the plants.
Police prosecutor Neville Jeffers a party of police, acting on information, went to the defendants' home, where conducted a search but found nothing.
However, based on further information received, they proceeded to the farm owned by the defendants and discovered a plot of land containing a quantity of cannabis plants, about 4 feet in height and numbering about 400.
According to the prosecutor, the defendants admitted to the crime. Samples were also taken from the farm along with photographs and the remainder of the plants destroyed by fire, he added.
In addition to the three-year sentence, Antonio was also fined $15,000.
His wife will remain behind bars until her next court appearance, which is scheduled for February 21, 2017, at the Mabaruma Magistrate's Court.
Around the Web