Residents of the Farm/ Le Destin Backlands, East Bank Essequibo have heaped praises on the Good Hope/ Hydronie Neighbourhood Democratic Council (NDC) for providing them with a separate entrance to the area.Residents previously relied solely on a muddy dam for access.
On site to overlook the work while it was being undertaken on Saturday morning were the Vice-chairman of the NDC Linden Fowler and Chairman of the Works Committee Fizul Ghani.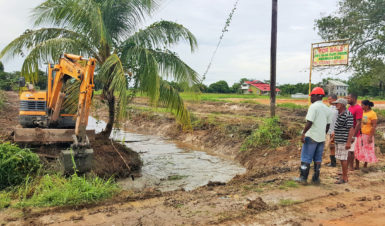 Fowler told Stabroek News that they have decided to make the separate entrance on the reserve to facilitate the residents after realising that the dam is destroyed during the crop-time.He said the project was discussed a few years ago and he was happy that it was finally becoming a reality. According to him, it was made possible with the help of the Regional Executive Officer (REO) Dennis Jaikarran, who "has been doing an excellent job in this area." The Regional Democratic Council of Region Three provided the excavators to undertake the job.He said that for now the land was just cleared of thick bushes and  levelled and that later they would build a concrete walkway.
Another excavator had been working simultaneously to clear the trenches and Fowler said they have been ensuring proper drainage through an "ongoing process that is backed by the REO. When the rainy season comes in, we must have adequate drainage."
One resident, Seeta (only name given) told Stabroek News that she was "very happy with what they [the NDC] are doing; they are doing a good job and I appreciate it a lot." She said her young grandchildren, who are attending primary school, had been finding it difficult to walk on the dam during the crop time and in the rainy weather.She recalled that there were times when she had to "lift them on meh back and bring them out." If not, the children would "plough through the mud" and would go and wash their feet in someone's yard before putting on their footwear for school.Meanwhile, Fowler said that for the first time recently, the NDC developed a "playfield for youth. The residents are pleased because over the years this was never done. A lot of money was expended out of the council; in excess of $6M every year but nothing was done."
He further said: "With this new council in place, we spent less than $200,000 and we got the playfield in a state of readiness for persons to play. Every day, we accommodate more than 100 persons playing… So, we are happy to know that this council is doing the work that the residents require. And we would want them to continue to support us."
Around the Web