Workers attached to the Port Mourant market are on strike over the non-payment of their salaries for several months.
The workers, who say they do not know when they will receive their salaries, are all pleading with the Region Six Regional Executive Officer (REO) to look into the matter and ensure that they are paid.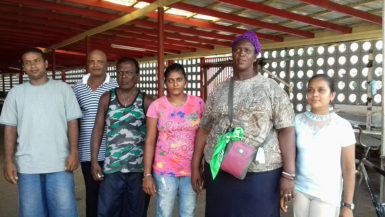 Karran Kowlessar, 58, told Stabroek News that the market owes him an estimated $200,000.
"Them na had watchman. Them take me fa watchman. Me work day time, night time and them na pay me," he, however, said.
"Every week the overseer a say come this week, come this week!" Kowlessar added.
He noted that he has worked with the market for over five years as a labourer but started as a security guard some three months ago.
Omar Alli, another security guard at the market, explained that he started to work some two months ago and has not yet received any pay. "Every day she tell me today, tomorrow, today, tomorrow," he lamented. "It na make sense you working and you children them hungry," the frustrated Alli added.
Alli, a father of two, while almost breaking into tears noted that he is almost out of groceries and is depending on the money to restock in order to properly take care of his family.
Chetram Narine, said he has also worked for two months at the market and has never received any salary. "The overseer always a say she got to carry in check, meet REO and sign paper and up to now you na get pay," he added.
Around the Web