BULAWAYO,  (Reuters) – Sri Lanka took three wickets in the last three overs to snatch a thrilling one-run victory over West Indies in the triangular one-day series today.
Niroshan Dickwella and Kusal Mendis both scored 94 runs as Sri Lanka posted 330 for seven from their 50 overs but for the second game running, West Indies worked themselves into a winning position before falling agonisingly short of their target as they finished on 329 for nine.
Needing 10 runs off the final over bowled by Nuwan Pradeep, Sulieman Benn belted the third delivery for six to leave the West Indies requiring three runs from the final three balls.
But amid a frantic finish they could only manage one more run and must now battle hosts Zimbabwe on Friday to determine who will play Sri Lanka in Sunday's Tri-Series final.
A sparkling maiden ODI century from West Indies opener Evin Lewis (148 from 122 balls) was in vain as captain Jason Holder (45 not out) was the only other batsman to get past 30 in the innings.
As they had done in their last match against Zimbabwe, when they could only manage three from the final over to tie, West Indies failed to close out the match.
Lewis was one of three run outs in the innings that came at crucial times and kept Sri Lanka in the game.
Dickwella and Mendis shared a 107-run partnership for the third wicket as Sri Lanka posted a formidable 330 in their innings.
Dickwella fell six runs short of a century as he was trapped leg before wicket by Holder and Mendis then also missed out as he edged a delivery from Ashley Nurse.
Scoreboard
SRI LANKA 
DM de Silva      c & b KC Brathwaite      58
MDKJ Perera    b Gabriel           7
N Dickwella†     lbw b Holder     94
BKG Mendis     c †Hope b Nurse           94
DSNFG Jayasuriya        b CR Brathwaite            9
WU Tharanga*   c Nurse b Holder           26
DAS Gunaratne c Powell b Holder          6
SS Pathirana     not out  24
Extras   (lb 7, w 5)          12
 Total    (7 wickets; 50 overs)      330
To bat KMDN Kulasekara, N Pradeep, RAS Lakmal
Fall of wickets 1-18 (Perera, 2.4 ov), 2-123 (de Silva, 20.6 ov), 3-230 (Dickwella, 38.2 ov), 4-258 (Jayasuriya, 42.1 ov), 5-277 (Mendis, 43.3 ov), 6-291 (Gunaratne, 45.4 ov), 7-330 (Tharanga, 49.6 ov)
Bowling: Gabriel 5-0-29-1(1w), Holder 10-0-57-3, CR Brathwaite 7-0-64-1 (2w), Nurse 8-0-58-1, KC Brathwaite 10-0-56-1 (1w), Benn 10-0-59-0 (1w)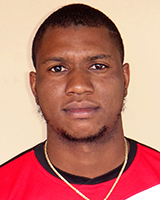 WEST INDIES
J Charles          c Tharanga b Lakmal     26
E Lewis run out (Mendis/†Dickwella)       148
KC Brathwaite   b Gunaratne      16         33
SD Hope†         run out (Pradeep)          25
JL Carter           run out (Tharanga)         6
R Powell           lbw b Kulasekara           10
JO Holder*        not out  45
CR Brathwaite   b Kulasekara     19
AR Nurse          c †Dickwella b Lakmal   2
SJ Benn            c de Silva b Pradeep     11
ST Gabriel         not out  0
Extras  (lb 6, w 15)        21
Total    (9 wickets; 50 overs)      329
Fall of wickets 1-63 (Charles, 7.6 ov), 2-133 (KC Brathwaite, 21.3 ov), 3-175 (Hope, 29.4 ov), 4-198 (Carter, 32.2 ov), 5-224 (Powell, 35.5 ov), 6-262 (Lewis, 40.3 ov), 7-307 (CR Brathwaite, 47.2 ov), 8-312 (Nurse, 48.2 ov), 9-328 (Benn, 49.5 ov)
Bowling: Kulasekara 10-0-73-2 (3w), Lakmal 10-0-67-2 (3w), Jayasuriya 4-0-20-0 (1w), Pradeep  10-0-65-1 (3w), Pathirana 7-0-51-0, Gunaratne 9-0-47-1(1w).
Result: Sri Lank won by one run.
Points: Sri Lanka 4, West Indies 0.
Man-of-the-Match: Kusal Mendis.
Umpires: RK Illingworth  and TJ Matibiri ; TV – M Gough.
Around the Web