A city magistrate on Tuesday set dates for the commencement of trials in relation to Anjanie Boodnarine, the reputed wife of convicted drug  trafficker Barry Dataram, who is facing charges of forgery, fleeing the jurisdiction and leaving the country illegally.
Boodnarine was charged with conspiring with others to commit a felony by forging a Guyana passport, attempting to defeat the administration of the law and departing Guyana without presenting herself to an immigration officer.
During the continuation of the matter before Chief Magistrate Ann McLennan, Police Pro-secutor Neville Jeffers served the defendant with statements in relation to the forgery charge and attempting to defeat the administration of the law charge.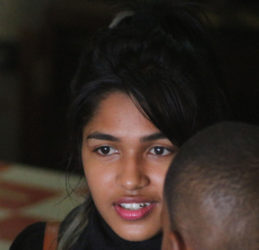 The court was told that the matters will not be heard jointly as they have different witnesses.
December 9 was therefore set as the date for the commencement of the conspiracy to commit a felony trial, while the hearing into the attempt to defeat the administration of law charge will begin on December 15.
The Chief Magistrate transferred the second charge to Magistrate Leron Daly's court.
The third charge against Boodnarine, which alleged that she failed to present herself to an immigration officer is being heard at the Springlands Magistrate's Court.
Boodnarine and Dataram were caught by authorities in Suriname last month after they skipped out on the decision in their trial for cocaine trafficking. While Dataram was found guilty of that charge, Boodnarine was acquitted. He has pleaded guilty to and has since been sentenced for the charges stemming from his flight.
Around the Web