A security guard attached to Hand-in-Hand Trust Corpora-tion, Middle Street, Georgetown branch was yesterday afternoon shot during a foiled robbery attempt on the financial institution and the police during a roadblock shortly after, managed to detain a man suspected to be the driver of the getaway car.
Injured is Natasha Williams, 39, of Stewartville, West Coast Demerara. Williams was shot once to her right leg and admitted to the Georgetown Public Hopsital for medical attention.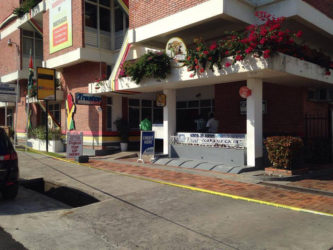 At the time of the incident, Williams was standing at the main door of the building, which also houses Western Union and Bill Express outlets and a cambio, with her 53-year-old supervisor who was armed with a handgun.
The Guyana Police Force in a statement said enquiries have disclosed that the two suspects were entering the building while attempting to conceal their identities by placing pieces of cloth over their face. As a result, Williams and her supervisor accosted the duo who discharged a round hitting Williams to her right leg. The supervisor returned fire and missed, but managed to grab onto one of the men. A scuffle ensued, during which the supervisor managed to relieve the man of a snub-nosed revolver with five matching rounds, after which both of the men scampered out of the building and jumped into a silver-grey Toyota Premio motor car.
The car's registration number was provided to the police who immediately set up road blocks in an effort to apprehend the gunmen. About one hour later, the car used to transport the men was intercepted in East La Penitence and the driver, who hails from West Ruimveldt, was taken into custody. He was up to late last evening assisting the police with investigations.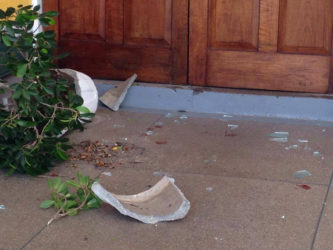 Moments after this newspaper arrived on the scene, crime scene ranks arrived and cordoned off the area as a crime scene. The doors of the institution were closed for business immediately after the incident.
Persons in the area, where there are several other businesses, recalled hearing shots fired and taking cover.
One man who works in the area said he heard about four shots fired and when he looked out the window he saw two men running west on Middle Street then south onto Main Street where they got into the motor car.
"One of the men opened the front door of the car and the other jumped through the window at the back and they sped away," he said.
Investigators were up to press time working to ascertain whether the car belongs to the driver, if it was rented or stolen and if the driver was one of the men who attempted to carry out the robbery.
Around the Web