The Government of Guyana yesterday signed a framework agreement with the People's Republic of China for a US$45.5 million concessional loan for the completion of the widening and improvement of the East Coast Demerara Highway.
The contract for this project was awarded since December 2014, to China Railway First Group Company Limited after initial work on the road had stalled. Expected to start in the first quarter of 2017, the project has an 18-month timeframe. The US$45,561,000 (314,000,000 yuan/$9,440,366,003) loan is expected to be repaid in 20 years, after a five-year grace period.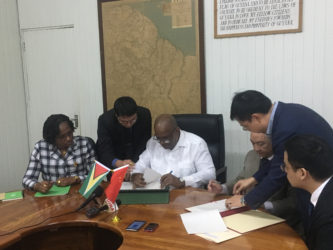 The project will see the completion of the upgrade of the road from Better Hope to Annandale from its current two lanes to four lanes and the two lanes from Annandale to Belfield upgraded along with safety measures.
Speaking yesterday at the Ministry of Finance boardroom, Minister of Finance Winston Jordan said, "The project will entail the widening of a section of the main thoroughfare between Better Hope and Belfield, and will link numerous highly populated villages to the capital city, thereby enhancing mobility and accessibility to George-town." He said that the upgraded road will see a reduction in the travel time, traffic congestion, vehicular maintenance and accident rate.
"They say accidents are caused by drivers and not roads, but when you have a new road you don't have to be swerving from potholes," the minister said.
More importantly, he said, the road will improve the movement of goods and people between the most highly populated regions in the country, thereby strengthening the link between agricultural producers and consumers. "It is expected also to enhance local and inter-regional trade, since a significant part of Guyana's economic activities depend on this thoroughfare," he said.
He said that the inking of the agreement demonstrates the strong bilateral relations which have existed between the two governments for decades.
"Some examples of China's economic cooperation in Guyana where concessional loans have been provided are the Guyana Power and Light Transmission and Distribution Infrastructure Development Project and the Cheddi Jagan International Airport Extension Project which is ongoing," he added.
Ambassador of China to Guyana Zhang Limin in his remarks, echoed similar sentiments as Jordan. He pointed out that the loan represents one of President David Granger's wishes to improve the country's infrastructure.
Stabroek News had reported in May 2014, that Chinese firms were vying for the new phase of the East Coast expansion project, which was supposed to be completed through a US$57 million loan from China.
At that time, the four-lane expansion slated for Better Hope to Belfield had been divided into six lots.
Lot One, Better Hope to Triumph, after the Montrose to Triumph section of the work (once referred to as Lot One and contracted to Falcon Engineering Services for $468 million) was joined to the Better Hope to Triumph section (once referred to Lot Two) was being done by Dipcon.
Falcon had lost the contract after the then government found that the contracting firm was behind schedule and was allegedly carrying out inferior work. An additional $463 million had to be doled out by government for Dipcon to repair the reportedly substandard work done by Falcon, and complete the section of road. Falcon had filed suit against the then Works Ministry for money which it claimed it was owed. The matter is still before the court.
Dipcon also had the $328 million contract for Lot Five, which stretched from Triumph to Mon Repos. At that point work on that Lot was said to be 80% complete. Back then too Manager of the Public Works Ministry's Roads and Bridges Department Ron Rahaman had said that work was not moving as quickly as it could because the contractor continued to encounter issues sourcing aggregate. Dipcon Engineering Services Limited  is now in receivership and its assets will be liquidated.
Lot Three, which stretched from La Bonne Intention to Beterverwagting (BV) was contracted to Courtney Benn Contracting Services and was valued $349 million. This section was said to be 20% complete. Lot Four, which stretched from BV to Triumph, was awarded to Compustruct Contracting Services and was valued at $322 million; this section was also about 20% complete.
Meanwhile, Lot Six, from Mon Repos to De Endragt, which was awarded to Colin Talbott Contracting Services for $345 million, had been completed.
China Railway First Group Company Limited will complete the entire road.
Around the Web