MV Logos Hope, the world's largest floating book fair, is scheduled to dock at the La Penitence wharf next month.
A statement from the Georgetown Mayor and City Council said the vessel would be docked from December 21 to January 10, 2017.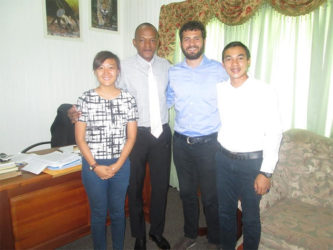 It noted that a team from Logos Hope last week met with Deputy Mayor Sherod Duncan, who is performing the duties of Mayor and he welcomed the visit and the projects that the visiting crew would be engaged in, which he called timely and relevant.
The statement from the council stated that in addition to providing books, the crew would undertake several projects, including a water purification project for rural communities, eye testing and the provision of free reading glasses and a special building project.
"The various events and projects done at each port by staff of Logos Hope provide an opportunity for them share their experience and culture with local communities," the statement said.
Duncan, meanwhile, was reported as saying that the city council would be happy to partner with the Logos crew in any other ventures that will enhance the welfare of the city.
According to the Logos Hope Project Manager Bernadine Tan, who met Duncan along with project coordinators Boyd Srisakunphaet and Henrik Scharton, Guyana would be the first stop on their tour of the Caribbean.
After the three weeks stay, the ship would dock in Trinidad and Tobago, Curacao, Bonaire, Aruba and Jamaica.
The Logos website states that the floating book fair offers over 5,000 titles and provides many visitors their first-ever opportunity to purchase quality educational and Christian literature.
It notes that its goal is to bring knowledge, help and hope to the people of the world by "supplying vital literature resources, encouraging cross-cultural understanding, training young people for more effective life and service, providing needed relief, and sharing a message of hope in God wherever there is opportunity."
It also says on average, over one million visitors have been welcomed on board every year.
An international crew and staff of volunteers live and work on the ship.
Around the Web