A father of three was shot in his abdomen yesterday morning in an apparent robbery in  D'Urban Backlands  just after 6 am.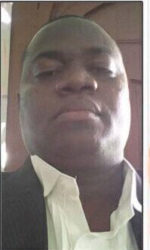 The man has been identified as Leroy Anthony Blair, a hire car driver of 528 Block X, Liliendaal, East Coast Demerara and of 337 Stanleytown, West Bank Demerara (WBD).
Reports on the shooting remain unclear but a resident of D'Urban Backlands told Stabroek News, they were awakened by the sounds of gunshots. She peeked through her window after hearing three shots, she said, adding that she saw three boys running on the road heading in the direction of Sophia.
Police said the victim was shot to the left side of his chest and underwent surgery and is presently in the Georgetown Public Hospital.
Police investigators were unable to gather any substantial information from Blair as he was rushed to the hospital by public-spirited citizens.
When Stabroek News contacted a son of the victim, Joel Blair he said that he is still trying to get answers on the incident.  He said he was told that his father was shot and taken to the hospital. He added when he went to the hospital his father was being transferred from the recovery room into the ward after undergoing  surgery. He was unable to speak with his father, but the doctors have told him his father is in a stable condition.
Police investigations are continuing into the shooting incident.
Around the Web