Police are said to be investigating an incident at the Camp Street Prison which resulted in an inmate being admitted to the Georgetown Public Hospital (GPH) nursing chops to his upper body.
The patient has been identified as murder accused Shawn Edinboro, who along with another, suffered the wrath of a third inmate over an undisclosed dispute on Monday evening. Edinboro sustained several chops to his arms before being rushed to the GPH.
Deputy Director of Prisons Gladwin Samuels told Stabroek News that he was not in a position to definitively say what caused the attack on the two inmates since investigations were in progress.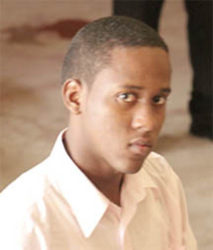 The attack came less than two weeks after a large quantity of contraband items, including improvised weapons, cell phones and drugs, were seized during raids conducted at the Georgetown and New Amsterdam prisons.
In response to questions about the occurrence of such an incident in spite of heightened activities aimed at ensuring domestic security, Samuels said efforts are continuously being made to prevent such situations.
However, he pointed out that inmates were constantly dismantling bed frames, the materials from which were used to create makeshift weapons.
Samuels further stated that this type of behaviour stemmed from the belief that as prisoners, they need to arm themselves with potentially lethal tools to protect themselves.
Additionally, he explained that when such incidents occur, it was often hard to find the truth, since the inmates would lie to cover up other the real reasons for the attacks on each other.
"Sometimes you find that if two inmates had an incident over a cellphone, they would lie and say that the incident stemmed from a longstanding grievance prior to their incarceration at Camp Street. They would do this because they know that items like phones are contraband in the prison," Samuels related.
Nonetheless, he reaffirmed his commitment and that of the prison to do everything possible to halt such incidents.
Two years ago, Edinboro was jointly charged with Lorenzo Forde with the murder of Pegasus Hotel taxi driver Rudranauth Jeeboo, who was killed and dumped in a garbage heap in South Ruimveldt Gardens after allegedly rendering his services to the duo.
While Forde was committed to stand trial at the High Court for the 2014 murder, Edinboro was acquitted of the charge. However, before his acquittal, Edinboro had also been charged with the murder of a Raphael Campbell, a taxi driver from Beterverwagting, East Demerara.
In this case, Edinboro was charged along with Michael Bishop and Shawn Collins, after Campbell's bloody, battered body was found at Liliendaal, East Coast Demerara.
The Beterverwagting resident had remained unidentified until days later, when police intercepted a car on the Linden/Soesdyke Highway with five men inside. It was at this point that police made a link between the car and Campbell.
Campbell had rented the car and was using it as a taxi. He had reportedly picked up five men, but when they arrived at their destination there was an argument and Campbell was badly beaten, stabbed and shot in the head.
The Preliminary Inquiry into this matter is still ongoing before Magistrate Zamilla Ally at the Sparendaam Magistrate's Court.
Around the Web