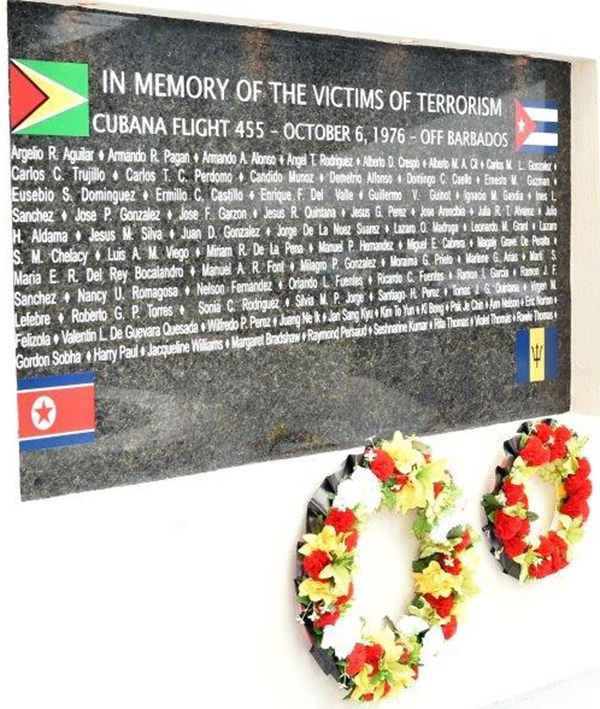 Junior Communities Minister Valerie Patterson on Tuesday defended government's move to replace turn-key homes with condominiums and duplexes, saying that not only has multi-unit housing been tried and tested during the former PNC government but that it caters for the development of urban communities in a modern Guyana.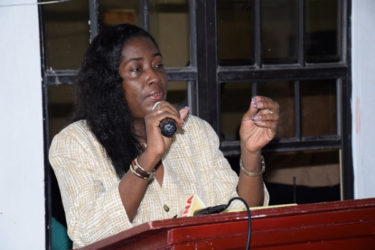 Patterson told a People's National Congress Reform (PNCR) press conference that while she is aware of criticism of the project, the positive feedback had from the citizenry has strengthened the resolve of the Central Housing and Planning Authority (CH&PA) to make it a reality.
"Yes, we have received criticism… but I can say to you the majority of the persons have said to us 'This is the way to go,'" she said.
She added that she agrees with many supporters of the project who say the plan is an appropriate housing alternative for a modern Guyana. "We are progressing, we have found oil, people will re-migrate to Guyana and all that and that is the way to go," Patterson asserted.
The arguments of the critics, she also said, have inclined her to believe that they "grow up in a tenement yard kind of scenario and they had a bad experience."
It is taking all factors into consideration that the CH&PA and the APNU+AFC coalition want to assuage fears, Patterson said.
Patterson posited that records will show that in its first ten years in office, the former PNC government developed a holistic housing programme. The party credits itself with stimulating cooperatives, self-help and other forms of non-profit making aimed at making wholesome communities.
"The PNCR in government increased the housing stock by producing new accommodation at the rate of over 4,000 units per annum. It was under the PNC that communities such as Tucber, Tucville, Amelia's Ward, North and South Ruimveldt, Festival City, Roxanne Burnham Gardens, Melanie Damishana, Stevedore Scheme, the Wismar-Rockstone Housing Project, Dazzell Housing Scheme, and many other were developed," Patterson said.
"It is apposite to note that under the PNC, we did not give the working man an underdeveloped piece of land, we gave them a key to a well-built house in a community with paved roads, light and running water," she added.
'Cannot continue one house lot per person'
House lots were allocated under the former People's Progressive Party/Civic administrations. However, with 25,000 land applications on file and the numbers climbing daily, government believes that condos and duplexes are needed because there is not enough land for every person to own a house lot, especially in Region Four, where the demand is highest.
"These persons are waiting. Many of these persons have families. Many have said that they were not married when they applied… so the need is there and urgent. Most of the persons are asking for Region Four… if we look at the process, we cannot continue the trend of giving one house lot per person," Patterson said.
Chairman of the CH&PA Hamilton Green, who was present, also said that the administration conceptualized a new model to improve the housing delivery system to address the backlog of 25,000 applicants, particularly the 17,851 who can be classified as low income households.
"This new model seeks to move beyond the provision of serviced lots to create livable and wholesome communities through the provision of full infrastructure, the necessary social facilities and services and the supply of housing units. The new model will also address the issue of reduction in infrastructure cost, since it seeks to increase density," he contended.
The programme also promotes inclusivity, Green posited, as it focuses on improving the living conditions of both coastal dwellers and Indigenous households in the hinterland. It also includes an urban renewal component to restore and beautify open spaces/reserves through the relocation and re-settlement of squatters living under unsafe conditions to wholesome communities.
Green disclosed that the projected cost of construction of approximately 50% of the 10,000 needed housing units (apartments and duplexes) inclusive of infrastructural works is $50 billion (US$250 million). Some $60 billion is needed for completion of infrastructure in existing schemes, he also mentioned.
Patterson on Tuesday pointed out that based on advice from President David Granger, priority applicants will be "state employees, low income earners, and youths."
Funding
Government has not yet decided on how the project will be funded but wants it to commence next year.
Patterson said that it is on the advice of President Granger, her ministry will focus on building the duplexes, given that they are the cheaper option and could be started in the first phase of the project.
Talks have been had with the Islamic Development Bank, which seems interested in the project and from where government hopes much of the funding will come, she noted.
"We are hoping to have this project started definitely in 2017. We have approached the Islamic Development Bank that was here about a month ago because, of course, government doesn't have the financing to build all these apartments and we recognize that we have to get into partnership," Patterson said.
"We did a presentation to them. There seems to be a buy into it but, of course, it will take a process. We have decided, based on the advice of His Excellency, to look at what we call the low hanging fruit and we consider the duplexes as the low hanging fruit so that will be the first phase of the project and we hope to start that in the first quarter of next year…. Cabinet has not made a decision as yet whether we will go solely for the duplexes or if we will have collaboration or whether we will receive a grant or a loan because the Islamic Bank has a grant component and a loan component, so we are not sure what direction that will go," she added.
Around the Web