Nineteen students of the Sophia Training Centre on Tuesday graduated from catering and entrepreneurship programmes, the initiative being part of Cuso International's move to reintroduce the 4-H club to Guyana.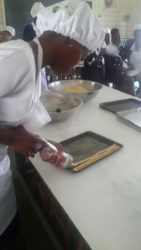 '4-H,' which stands for Head, Heart, Hands and Health, was once a popular initiative locally. According to a statement from Cuso International, the club is "a global network of youth organisations, whose mission is to engage young people to reach their fullest potential." Their theme is "Learning by doing."
Cuso International is a development institution that works to lower poverty and inequality through the work of highly skilled volunteers and collaborative partnerships.
For the past six weeks, students of the Sophia Training Centre were engaged in 12 hours of work, where they were involved in the making of various pastries, cakes, sandwiches and doughs and taught valuable entrepreneurship skills.
Amanda Scott, who facilitated the entrepreneurship programme, related that during the course students were advised on record keeping, calculation of profit and loss and marketing strategies.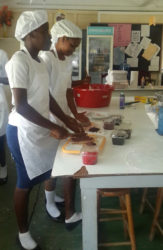 At the beginning of their programme, the students were divided into three groups and each group given $2,000, from which they were required to turn a profit through the sale of their baked goods.
At the end of the six weeks, the leading group was able to make $6,610 in gains.
Besides the depth of knowledge they acquired in catering, students expressed that they also benefitted from lessons in communication, leadership and financial responsibility among other things.
"For both projects, it was a great experience for everyone, especially the entrepreneurship aspect where you had to be very competitive," Naomi Richmond, Secretary of the 4-H club stated.
Apart from the Sophia Training Centre, the club was launched at three other institutions—the Kuru Kuru Training Centre, Vryman's Erven Training Centre and the Guyana School of Agriculture. The clubs are managed by Alexandra MacAulay Abdelwahab of Cuso International.
The local leg of the programme focuses on five areas: environment and climate change, agriculture and agro-processing, entrepreneurship, food and nutrition and science and technology.
Although only catering and entrepreneurship courses were available to this batch of students, there are plans in place to have a public speaking programme launched in January, with support from the Toastmaster's club.
The steering committee of the 4-H club consists of representatives from Cuso International, the Department of Culture, Youth and Sport, the National Agricultural Research and Extension Institute and the Guyana School of Agriculture and receives support from the 4-H club of Jamaica.
Around the Web