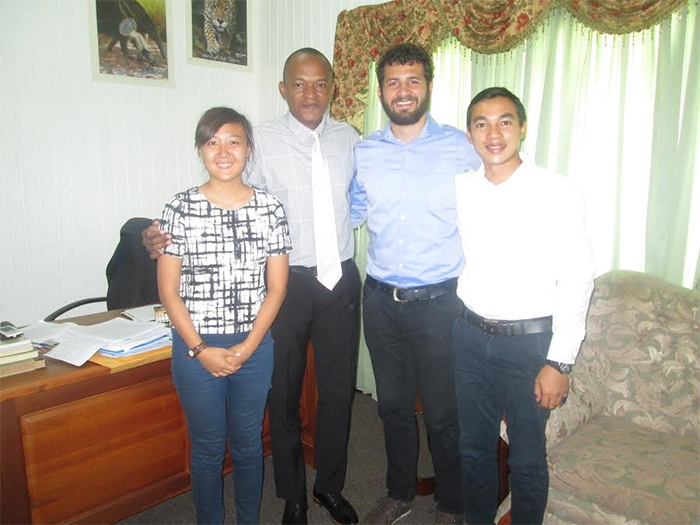 St. Stanislaus College last Friday held its annual graduation and prize giving ceremony, where its recent Caribbean Secondary Education Certificate (CSEC) and Caribbean Advanced Proficiency Examination (CAPE) graduates were awarded.
Prizes were also distributed to students on the Honour Roll, to CSEC writers who performed outstandingly in various subject areas and for outstanding participation in sports, among other things.
Jemuel Parasram, a student of Business, emerged the top CSEC performer and the school's valedictorian for the academic year 2015-2016. He achieved 11 Grade Ones and three Grade Twos.
The second best graduating student was Moesha Bess with 10 Grade One passes and one Grade Two. Bess was also awarded for being the best all-round student. The third best graduating student was Vishwanand Sawh, who achieved nine Grade Ones, four Grade Twos and a Grade Three.
Outstanding CSEC performers by stream were Bess, who was an Arts student; Christel Fagundes, of the Business stream; Vishwanand Sawh, of the Science stream; and Akeem Shepherd of the Technical stream.
The Top CAPE performers were Karishma Mohan, Schauvonee Perreira, Jalana Hartman and Nandanie Narine.
In total, there were 17 students who graduated with distinctions, that being for attaining seven or more grade one passes and 17 who were awarded for passing with credit, having attained at least five Grade Ones. In total, 119 CSEC students and 17 CAPE students were honoured.
Acting Chancellor of the Judiciary, Justice Carl Singh and Dr Jason Ramcharan, both alumni of the college, delivered words of wisdom to the awardees.
"When I was asked to deliver this speech, I immediately reminisced to my graduation ceremony, which was not so long ago. I specifically remember sitting right there where you're sitting, and I was saying to myself, 'I hope that someday I will be honoured enough to deliver a speech at Saints' graduation.' That was 19 years ago," Ramcharan stated, afterwards joking, "I imagined I would have been in my 40s or maybe over, I didn't expect it to be so soon."
Ramcharan, who returned to Guyana in 2015 and has since graduated as a Doctor of Medicine, reminisced on his years as a student of St. Stanislaus' College and alluding to the good and bad and the memories he has taken away from it. His charge to the graduates was a lesson on time, on how fleeting it can be and how it should be utilized as a resource.
Chancellor Singh's lesson to the students was one on being faced with multiple paths and the value of commitment in reaching one's goals.
"Along whichever road you take lies uncertainty. You may feel equipped to take on life's challenges but fear could seize you along the way because of uncertainty…While, no doubt, uncertainty will confront you on your journey and fear for one reason or another may grip you, the best thing you can do for yourself is to commit to the journey," he charged.
Around the Web