The two drivers who were involved in the accident that resulted in the death of four-year-old Abeka Trotman are expected to be charged sometime next week.
Trotman was travelling with her mother, Abiola Trotman, and her grandmother, Cheryl Williams, in a car, PMM 1426, on September 10, on Sheriff Street, which was hit by a pick-up truck.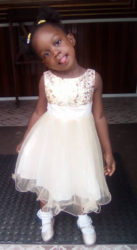 The DPP's Chambers had related to Stabroek News that it had advised the police to charge  both drivers over the death of the girl.
Traffic Chief Dion Moore had said that the driver of the car and the driver of the pick-up truck will be charged with causing death by dangerous driving. However, the driver of the pick-up truck will have an additional charge of driving under the influence laid against him.
The two men have not been charged yet since the driver of the pick-up is currently in Mahdia. Moore said that the man is expected to be in town by the weekend and they will be charged together sometime next week.
Williams had pointed out that all she could recall from the accident was seeing the pick-up racing towards them at a high speed before passing out.
"We were in the back turning the street to go home and all I remember was seeing the car speeding towards we and before I could say, 'Oh God,' it just went dark," the woman explained, while adding that she regained consciousness in the hospital.
Around the Web