A 19-year-old man was yesterday found hanging in his cell at the Mackenzie Police Station and the Police Office of Professional Responsibility has since launched an investigation.
According to a police press release,
Maurice Sumner, of Central Amelia's Ward, Linden, was found hanging in his cell around 2:45 pm yesterday. The release added that he was found hanging from one of the cell's grill bars, with the jersey he was wearing, by one of the ranks who was making routine checks. He was rushed to the Linden Hospital Complex where he was pronounced dead.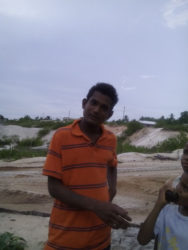 According to one of Sumner's relatives, he was locked up on Monday because of an altercation between him and his uncle, Sylvester Cambridge, where he chopped the man to his right arm. "On Monday morning his uncle and his grandmother had an argument and like he got in and it erupted and he [Cambridge] chuck Junior [Sumner] and he pick up a cutlass and chop he to his hand," one of the relatives related to Stabroek News last night.
Sumner was arrested and Cambridge was taken to the Georgetown Hospital and was later transferred to the Linden Hospital on Wednesday. "His [Sumner] court date was supposed to be on Wednesday but since Sylvester didn't come up on time it had to postpone and so they had him in since then," the woman related. She said that the Sumner was not allowed to shower since he was arrested on Monday and when his grandmother went to visit him she was not allowed to see him.
"She [his grandmother] went and one of the police officers there told her that they can't open the cell because she would faint if they did and she reported it to another corporal but nothing happened," the relative said.
She explained that Sumner's stepmother was able to see him and that he was "acting like a normal person waiting for his court case… The family doesn't understand what happened because they [the police] are saying that he hung himself with a jersey but all he had on was a vest and his pants. When his stepmother visited him on Wednesday he had on the same vest and pants so we don't understand," the woman said.
She related that the stepmother said Sumner seemed a bit distressed but he didn't have any injuries.
The family is still baffled at the sequence of events and is awaiting the results of the investigation.
When Stabroek News spoke to Cambridge yesterday he broke down on the phone and said he has since regretted how everything happened that Monday morning.
Hangings in police lockups has been an ongoing issue.
Around the Web