Wanted businessman Marcus Brian Bisram and his bodyguard were yesterday both formally named as co-accused in the murder of Number 70 Village carpenter Faiyaz Narinedatt.
After the amended murder charge was read to bodyguard Orlando Dickie as well as the four men who were previously charged on Tuesday, police made an application for an arrest warrant for Bisram, who is believed to be in the United States.
Bisram, it was alleged, procured and commanded Dickie, Radesh Motie, Diodath Datt, Harri Paul Parsram, and Niran Yacoob to murder Narinedatt between October 31 and November 1, 2016, at Number 70 Village, Berbice.
Neither defendant was allowed to enter a plea to the allegation levelled against them.
The new charge was instituted against the defendants to include Bisram based on the advice of the Chambers of the Director of Public Prose-cutions (DPP).
The day prior to being found dead, Narinedatt had attended a party in Number 70 Village, which was hosted by Bisram, an overseas-based businessman. It has been alleged that Bisram made sexual advances towards Narinedatt and after being rejected it is alleged that the businessman subsequently ordered his associates to kill the carpenter.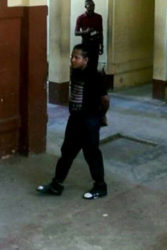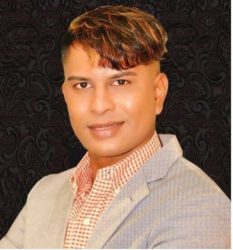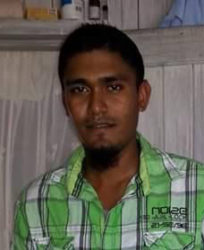 It is believed that the suspects, who were armed with several objects, dealt Narinedatt several lashes about his body until he fell unconscious. His body was then placed in the trunk of a car, driven to the Number 70 Village road and dumped.
Police Prosecutor Neville Jeffers requested an arrest warrant for Bisram and stated that the police are currently seeking assistance from officers in the United States through Interpol.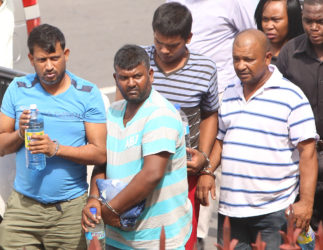 Chief Magistrate Ann McLennan remanded the defendants and adjourned the matter to December 8, when it will be heard at the Springlands Magistrate's Court.
The mother of Bisram, Sharmila Inderjali, and another woman, Maryanna Lionel, were also jointly charged on Tuesday with corruptly offering $4 million to police officer Kamal Pitama on November 19, at Eve Leary, to forego charges against Motie, Datt, Parsram and Yacoob, who were in custody for the murder, and Bisram.
Around the Web