Leroy Williams, one of the men charged with lobbing a grenade outside of the Kaieteur News, yesterday disrupted the proceedings in the Chief Magistrate's courtroom, where he ended up in a scuffle with orderlies.
Williams, who is charged along with Alfie Garraway and Janiel Howard, was present yesterday for the continuation of the preliminary inquiry into the charge.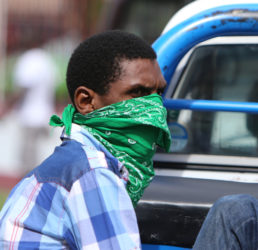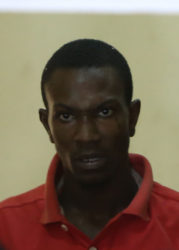 Following the cross-examination of a police witness by the defence lawyers, Chief Magistrate Ann McLennan adjourned the matter and gave the men their next court date and they were sent out of the courtroom. However, a shouting Williams, who was still handcuffed, soon came running back in through the prisoner's chute.
A court orderly, who tried to restrain the outraged prisoner, ended up in a scuffle with him. Williams, who was in a fit of rage, began to yell at the Chief Magistrate that he was fed up with the hearing.
Persons who were in the court ran out in a hurry in fear that Williams had a weapon in his possession, while the Chief Magistrate left for her chambers. Another orderly quickly adjourned the court before proceeding to help his colleague restrain Williams.
The police managed to calm the accused, who was taken to the prisoners' holding cell until he was ready to be transported back to Camp Street Prison.
This was not the first-time Williams has been out of control at the Georgetown court. He had assaulted a Stabroek News court reporter, who was taking footage of another inmate on the court steps. The accused has not yet been charged for this action, even though a report was made to police.
The preliminary inquiry was adjourned until December 1.
The three men are charged with unlawfully and maliciously conspiring with other persons to cause an explosion by way of using a grenade, which was likely to endanger life or cause serious damage to property.
The grenade, which was thrown near the vehicle of Kaieteur News' publisher Glen Lall on the night a wake was being held for one of the company's employees, did not explode.
The police had said that after reviewing surveillance footage, ranks detained a car matching the description of the vehicle along with six suspects, three of whom— Garraway, 36, of Lot 71 Norton Street, Howard, 20, of Lot 322 Section 'C' Turkeyen and Williams, 25, of Lot 11 D'Urban Backlands—were subsequently charged.
Around the Web