In observation of International Day for the Elimination of Violence against Women, the Caribbean American Domestic Violence Awareness (CADVA) yesterday unveiled a sculpted doll in the image of Babita Sarjou, who was murdered six years ago, allegedly by her estranged husband.
The sculpture was unveiled in the Savannah Suite of the Pegasus Hotel during a programme held by the organization where domestic violence survivors and their children gathered.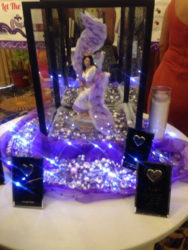 The piece was created over a one month period by Brazilian sculptress Juliana Lepine, who lives in Canada. Called 'Reclaiming the Inner Essence: Unveil the Goddess Within,' it was the first to be created in a series which aims tell the story of domestic violence homicides.
Delivering remarks, CADVA Regional Coordinator Tiffany Jackson said that over the years the organization has taught those who are aware of domestic abuse how to speak up, empower others and how to react when witnessing domestic violence.
She noted that CADVA Founder Sukree Boodram, who herself is a survivor of domestic violence, uses her experiences to help other make better choices in an effort to combat the scourge.
"Our kids might not be able to even make a simple 911 call. Many of them are forced to accept this type of behaviour or simply pretend that everything is normal. Some of our kids are suffering in silence because we as adults sometimes do little or nothing to prevent it," she said, while adding that when the adults ignore their cries for help, this is often manifested through children's behaviour.
Meanwhile, Programme Director of CADVA Diane Madray used the opportunity to urge families and victims affected by domestic violence to break the silence.
On the eve of November 4th, 2010, the then 28-year-old Sarjou left her Timehri home having informed her family that after work she was going to view the annual Diwali motorcade with her estranged husband and four-year-old son.
She had promised that she would have been back home around 9 that night. Relatives never saw or heard from her again.
CADVA's activism and Sarjou's mother's unwavering quest to get to the bottom of what happened to her daughter, saw police revive the cold case earlier this year. Skeletal remains, suspected to be Sarjou's, were unearthed at the residence of her estranged husband in Campbellville, Georgetown on May 22nd. Sarjou's relatives later positively identified a pair of slippers, Indian attire and underwear that were found with the remains as her belongings and samples were taken for DNA testing.
Sarjou's estranged husband, Anand Narine, and another man, Darrol Compton, called 'Yankee,' have since been charged with her murder.
Among the list of speakers yesterday were three children who lost their parents due to domestic violence.
Sasenarine Ghanie, who witnessed the murder of his mother, Indrawattie Somwar, called 'Sharda' on March 8th, described that day as a very sad and unforgettable one. "On that day, we lost our loving mother and kind-hearted mother, who was chopped to death by our stepfather, and I was unable to do anything because I was scared," he said.
He recalled that his mother was a very peaceful and loving individual who worked several jobs in order to maintain their home
"After my mother's death, we started living with our grandfather. My sister is still going to school, and I have to work. We find it very difficult without our mother. She never let us know the pain and anger that she was going through," he lamented.
CADVA is a US-based non-profit organization focusing on advocacy against domestic violence by grassroots community efforts, partnering and involvement. It was founded in November 2011 by Boodram.
Around the Web