A total of 55.2 kilogrammes of cocaine with an estimated street value of $49.7 million was yesterday disposed of in the Atlantic Ocean by members of the Guyana Police Force's Narcotics Branch.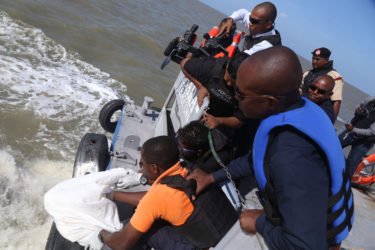 A boat carrying police officers, members of the media and the cocaine, departed the Police Marine Wharf at Ruimveldt East Bank Demerara, at 1 pm and headed about 6 miles out into the ocean to dump the illegal substance.
According to Officer Wayne DeHeart, the majority of the cocaine came from cases where 40 kg of cocaine were found in false bucket bottoms at the Cheddi Jagan International Airport and where 6 grammes of cocaine were liquefied and placed in bottles of alcohol to be exported to the United States of America among others.
The destroyed narcotics were mainly exhibits from court cases concluded over a two-year period. On Wednesday, the police had destroyed 232 grammes of cannabis.
Along with media representatives and officers of the Narcotics Branch, officers of the Tactical Service Unit also witnessed the dumping of the cocaine.
Around the Web